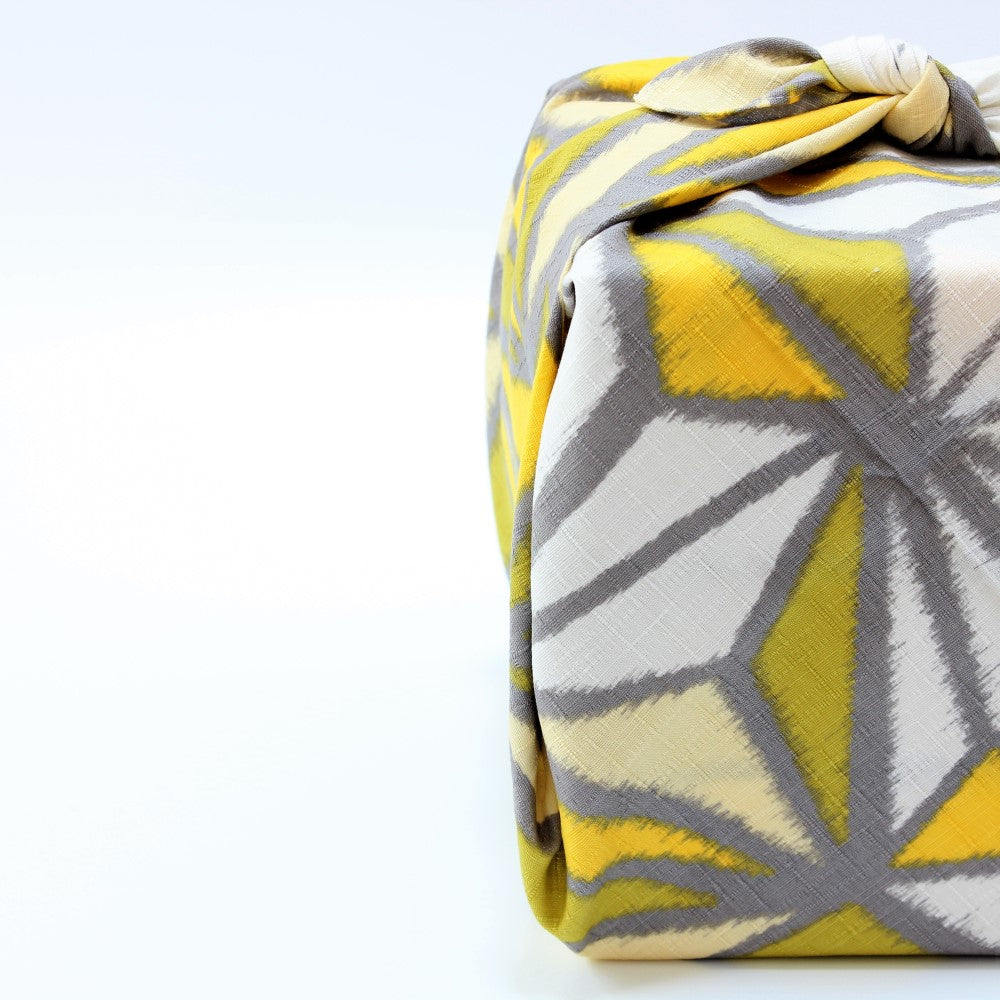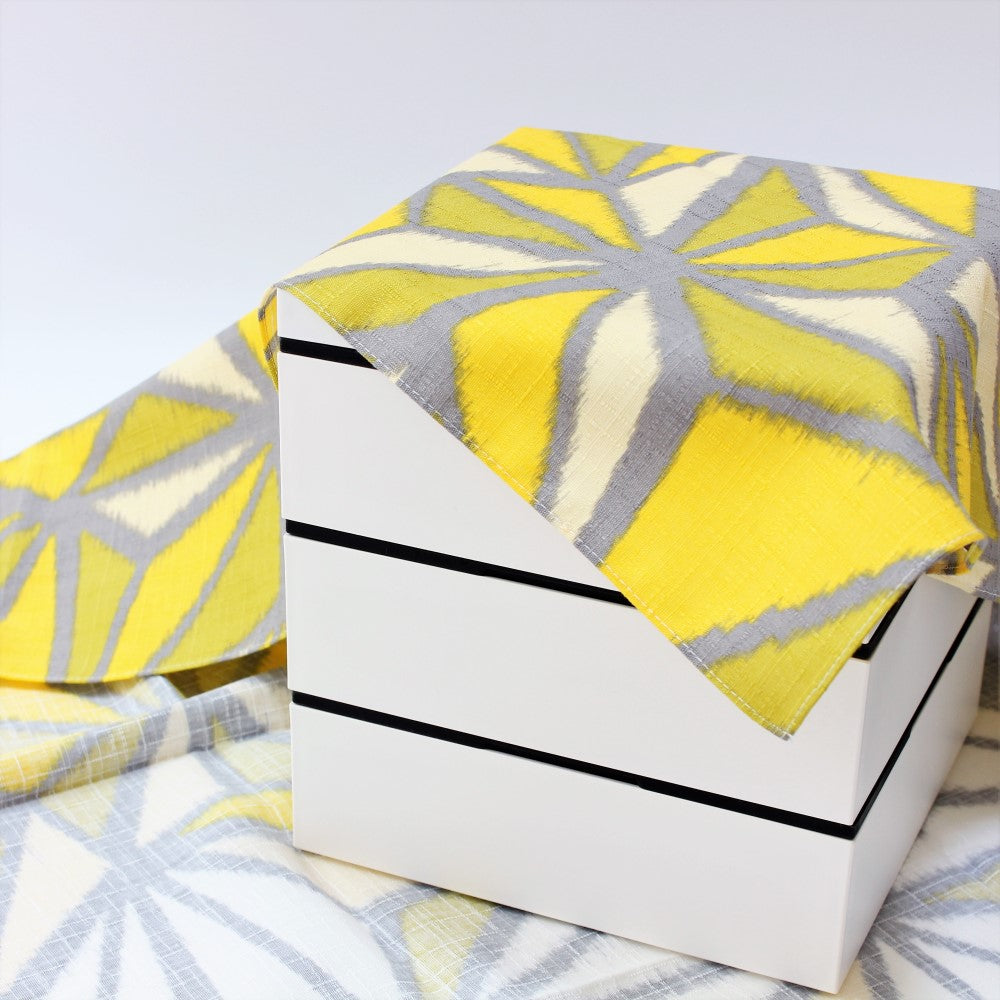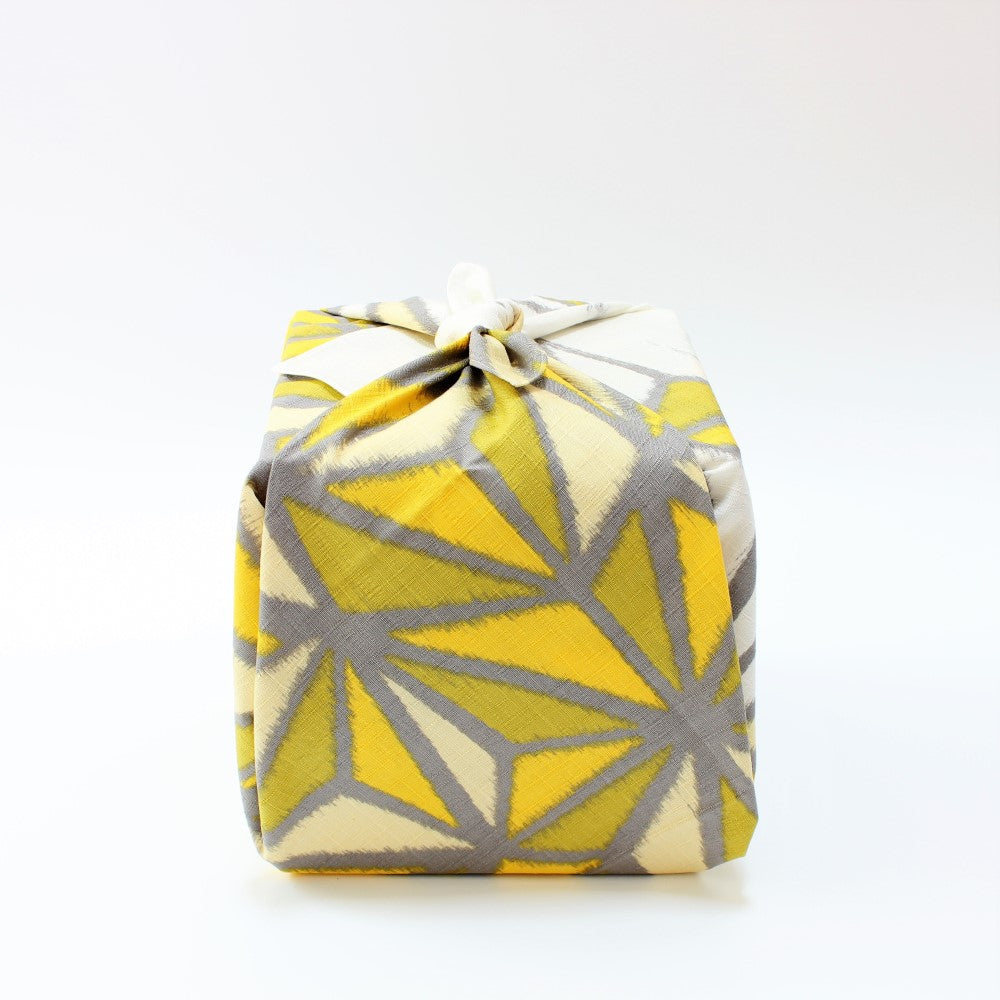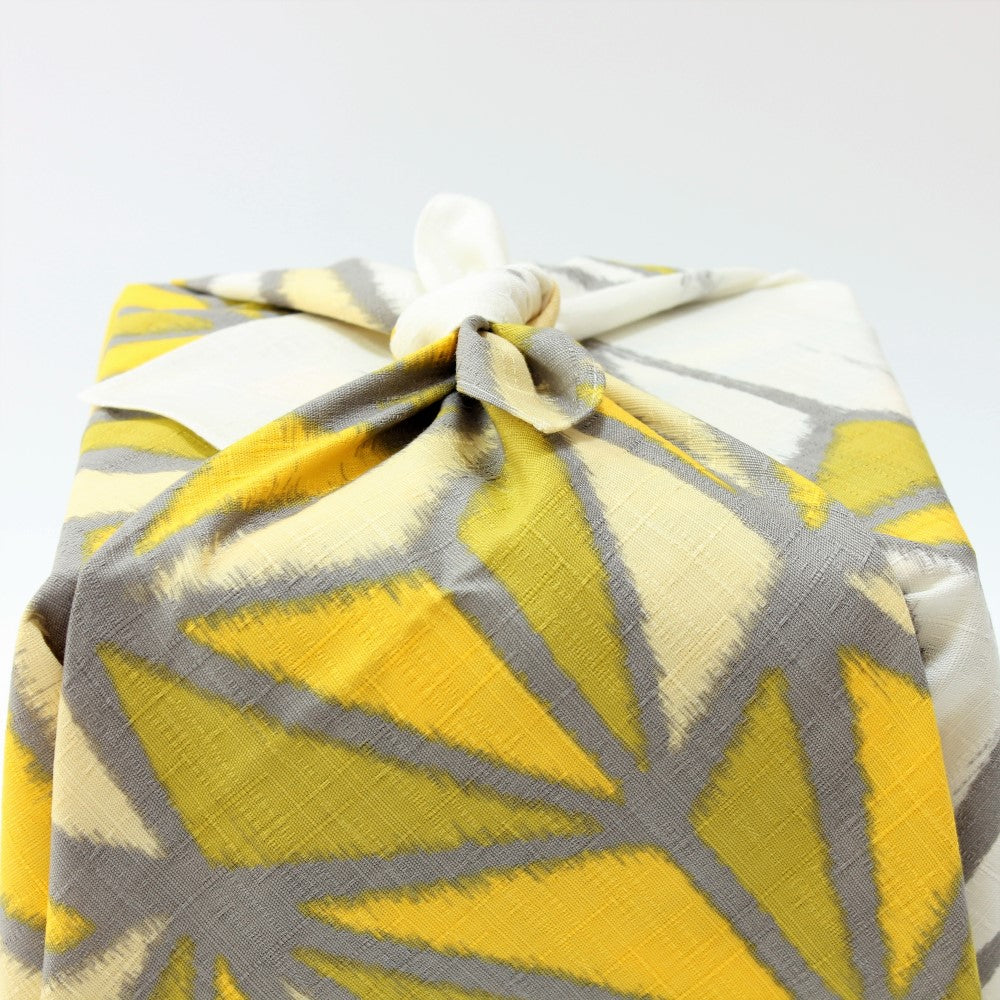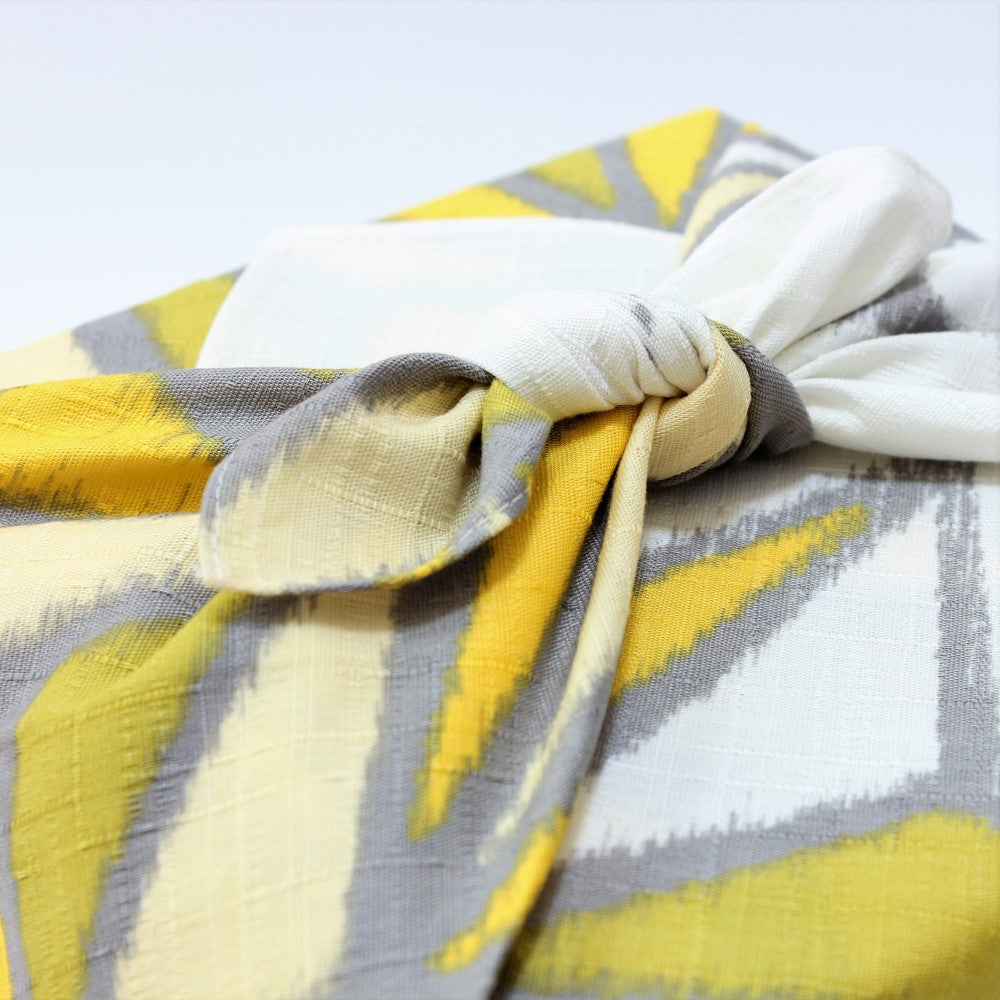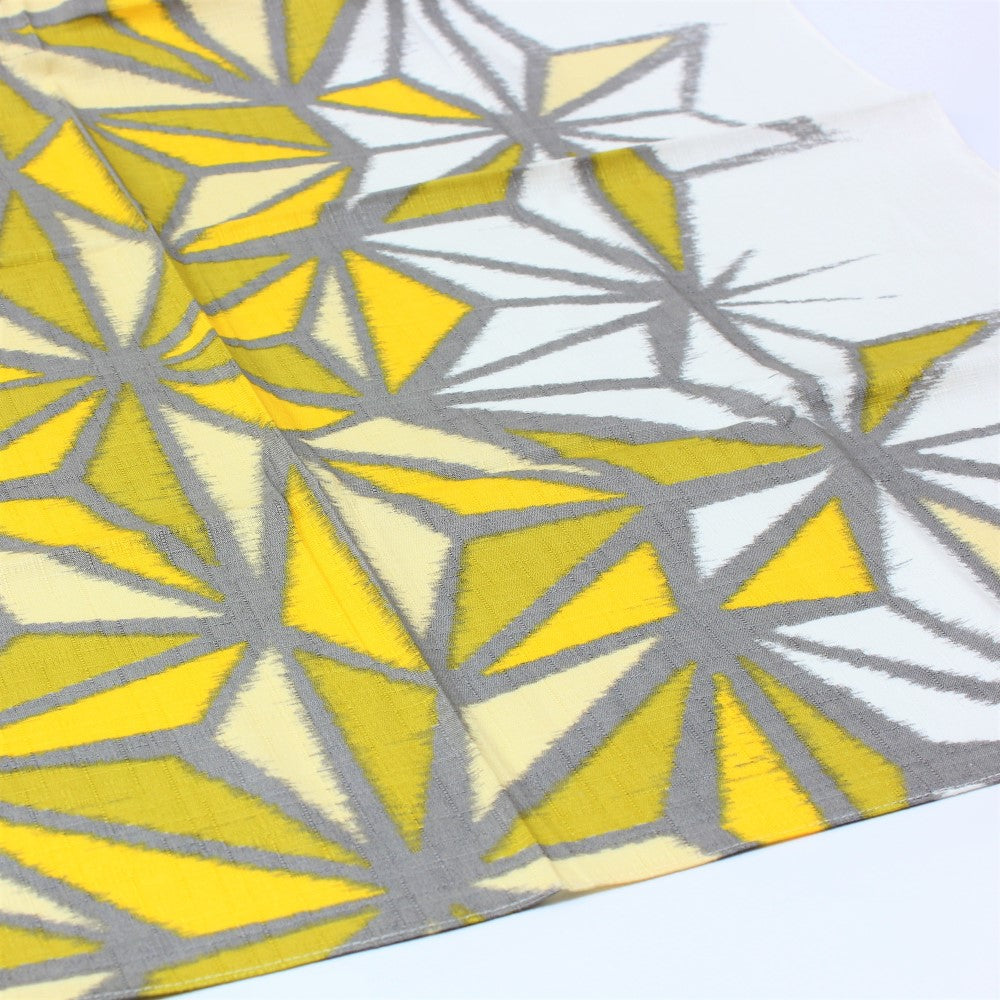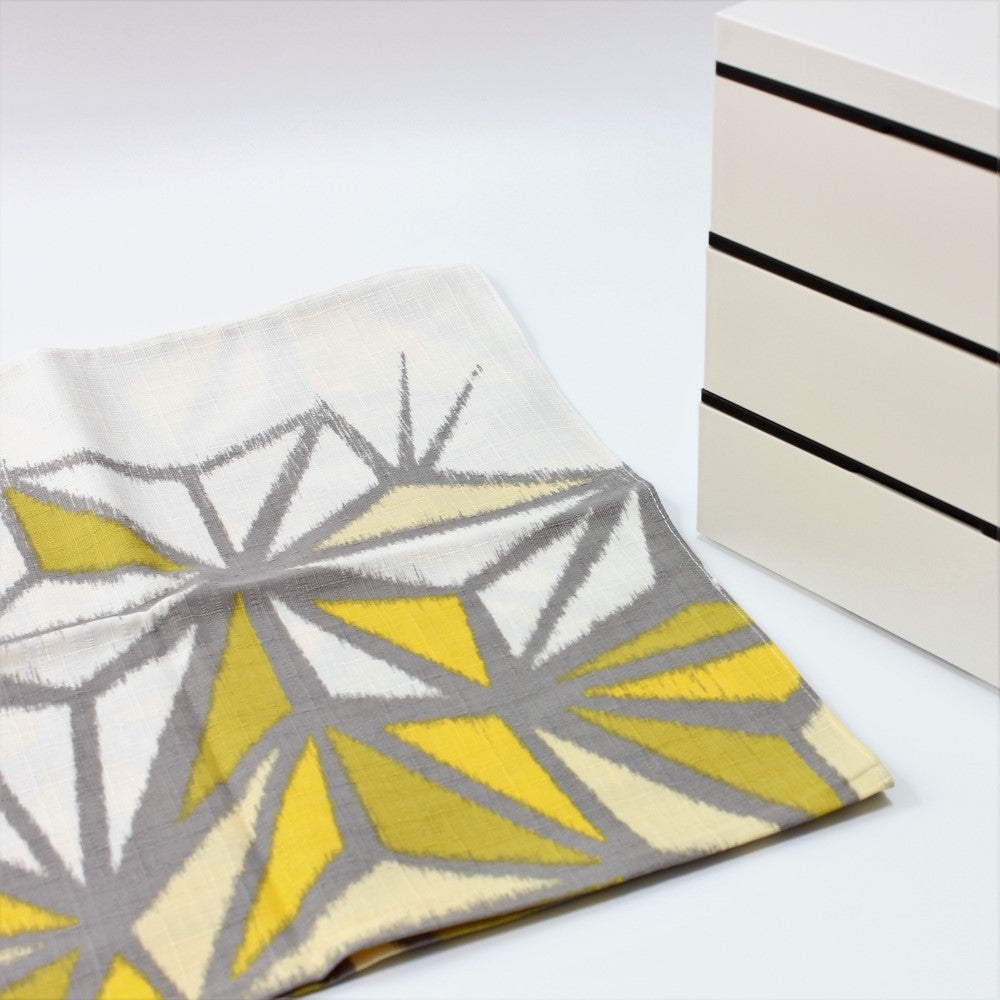 Modern Girl Asanoha Yellow Green Furoshiki Wrapping Cloth 70cm
Shipping rates: Orders under $30: $6 Orders between $30 and $75: $8.90 Orders above $75: $4.90 We only ship within Australia at this time.
The lovely yellow and light green colours incorporating the traditional Japanese 'Asanoha' pattern impart a stylish yet casual feel to this furoshiki. Turn it into a carry bag or use it to create a unique gift wrap that can be reused. The larger 70cm size is suited for wrapping our picnic bento boxes. 
View other furoshiki in our collection. 
More about the series
The Modern Girl furoshiki series is a reimagination of patterns that were popular amongst 'Modern' girls during the Taisho period (1912-1926) in Japan. The designs were popular amongst girls who loved to wear 'pop' kimono patterns that were imported from overseas, often adorned on a type of silk fabric called 'Meisen'. The Modern Girl furoshiki series takes these concepts together to recreate gorgeous designs that will make wrapping anything a sheer pleasure. 
Recommended uses

Bento boxes, gift wrapping, wine bottle gift wrapping, picnic basket cover, table runner, cushion runner, convert into a carry bag
Product details

Made in Japan
Dimensions: 70 x 70 cm
Weight: 98g
Material: 100% cotton
Product care: Machine washable (cold wash); Like all cotton materials, a little colour may fade over time, so wash with like colours; Hot iron - 180-200 degrees
All of our items are stocked in and ships from Sydney. Orders are shipped within 2 business days, but are usually dispatched the same or next business day.
Flat rate shipping (outside of shipping offers):
Standard (2-8 business days):
- $8.90
- $6 (orders under $30)
- $4.90 (orders over $75)
Express (1-4 business days):
- $16
- $12 (orders over $75)
Unfortunately we do not offer free shipping at this time as we are still growing and most of our items are bulky. We hope to help our customers with free shipping in time.
We currently do not offer international shipping.
Thanks for your understanding and support!
More shipping information here.
Returns
30 day return policy for a refund due to change of mind, provided the item has not been opened or used. Shipping fees to be covered by the customer in these instances.
We do individually check each item when it is packed. If for any reason there is a defect or an item is damaged during shipping, rest assured we will provide a full refund, or you can choose for a new item to be sent (please provide evidence of the damage). We cover shipping fees in this case.
More information on returns here.
How long does shipping take? 
Orders are packed and shipped within 2 business days, although over 95% of our orders are packed and shipped within 1 business day.
Delivery times will then take between 2-8 business days for standard shipping (by Sendle or Australia post), or 1-4 business days for express Australia post shipping, depending on the carrier status. We currently do not ship internationally.
Where are our furoshiki sourced from?
All of our furoshiki are authentic Japan made products sourced from reputable manufacturers and brands.  
How do I wrap my furoshiki?
We are in the process of creating a guide of common ways of wrapping items using furoshiki. In the meantime, there are many guides on YouTube or google. Just search for 'furoshiki wrapping method'.
What size furoshiki do I need to wrap my bento box?
It is important to check each product page description for guidance. In general, a 48-50cm furoshiki should fit our 1 and 2 tier bento boxes. For picnic bento boxes, use a 70cm or larger furoshiki.
How should I wash my furoshiki?
A cold machine wash is suitable. Place the furoshiki in a washing net to prevent stretching. Colour will fade over time so try and wash with like colours. Alternatively, you can hand wash.
What is Majime Life about?
My name is Ken and I run this small business of wanting to introduce more Japanese bento culture into Australia. I'm based in Sydney, and I started this business during the pandemic after quitting my full-time job to find and fulfill something I am passionate about.
Is Majime Life a legitimate business?
Yes! I started this business in 2021 and growing it as an online store. All stock are imported directly into Sydney, and dispatched from Sydney. No dropshipping.
You can check out our google reviews by doing a quick google search.
Washing
A cold machine wash is suitable, although hand wash is suggested. Place the furoshiki in a washing net to prevent stretching. Colour will fade over time so try and wash with like colours. Alternatively, you can hand wash.
Ironing
Ironing is recommended to remove creases after washing. Use the recommended settings on the iron for cotton and polyester materials.
Modern Girl Wrapping Cloth 70cm
This is a beautiful cloth. Gorgeous design and colours, made from quality cotton. The size is good for wrapping or using as a decorative cover for items such as a laptop or small table.
Thanks alot Brigitte! That furoshiki is really a gorgeous design, and glad you liked it!
Thanks for taking the leap to purchase!
Gorgeous
Beautiful, wonderful quality, easy to use and loved by the gift recipient!!! Absolutely recommended!!
Thanks so much for the wonderful feedback! Glad it was well received :)
The pattern is nice
The contrast between yellow and yellow-green is very nice, and it feels good to the touch. I usually decorate my room as an important cover to prevent dust.
Thanks for your review! We're glad you like your furoshiki and can use it for other purposes.