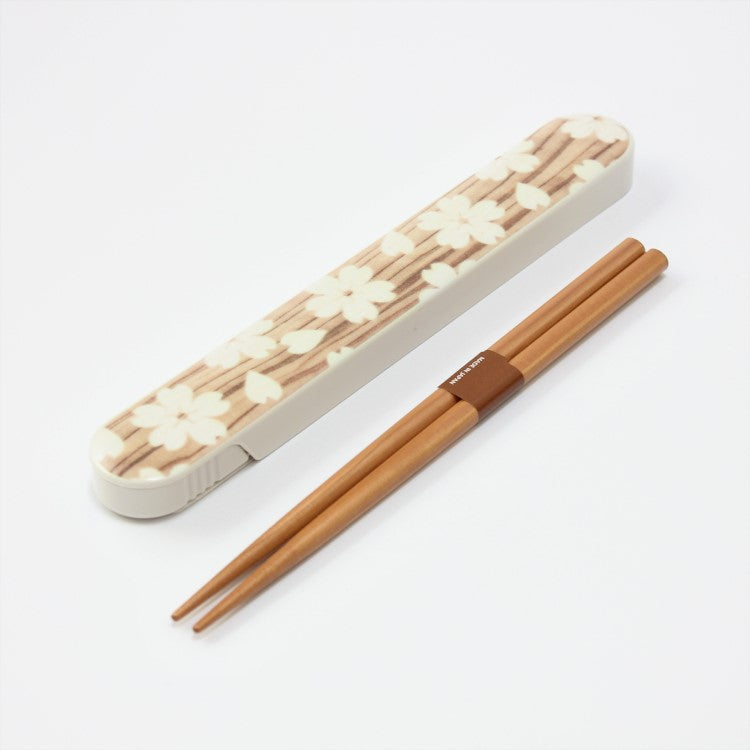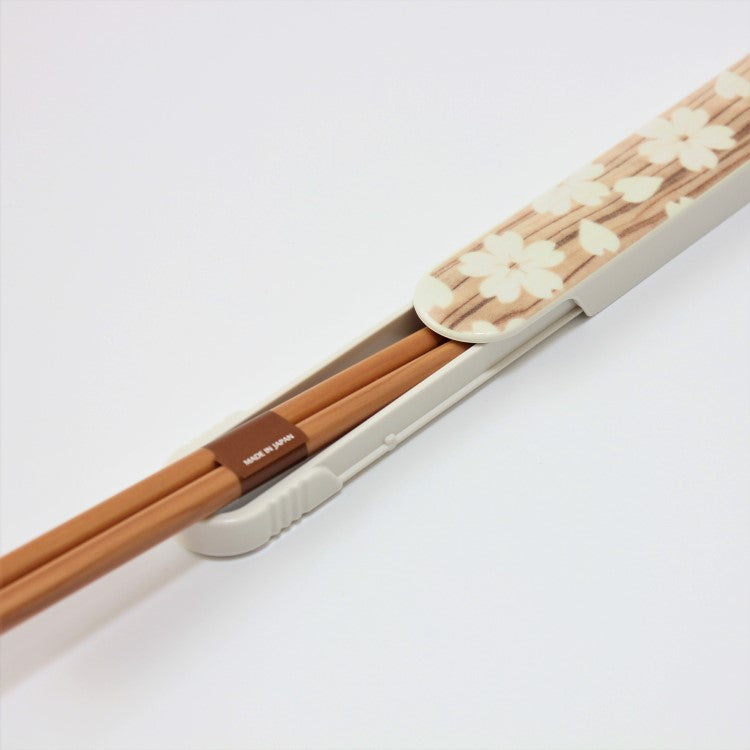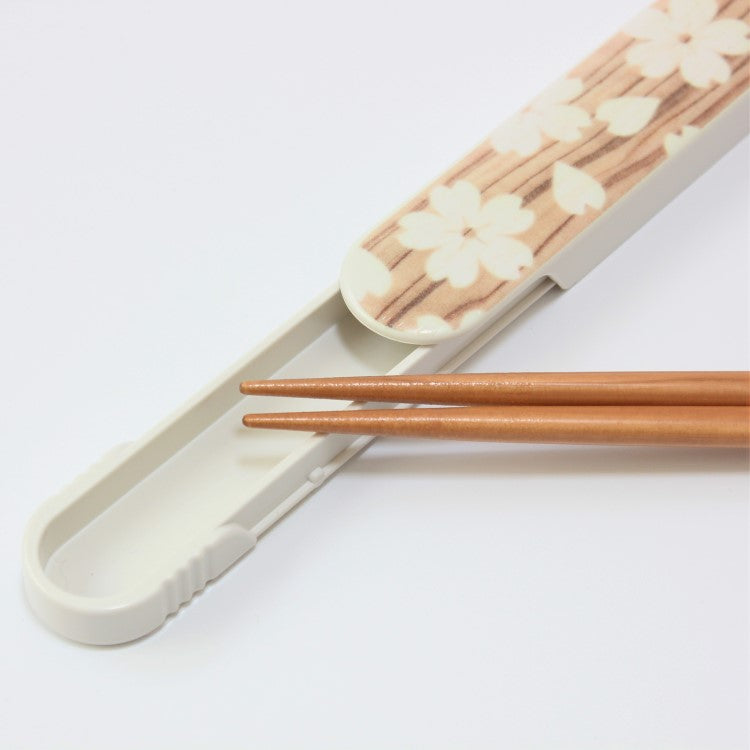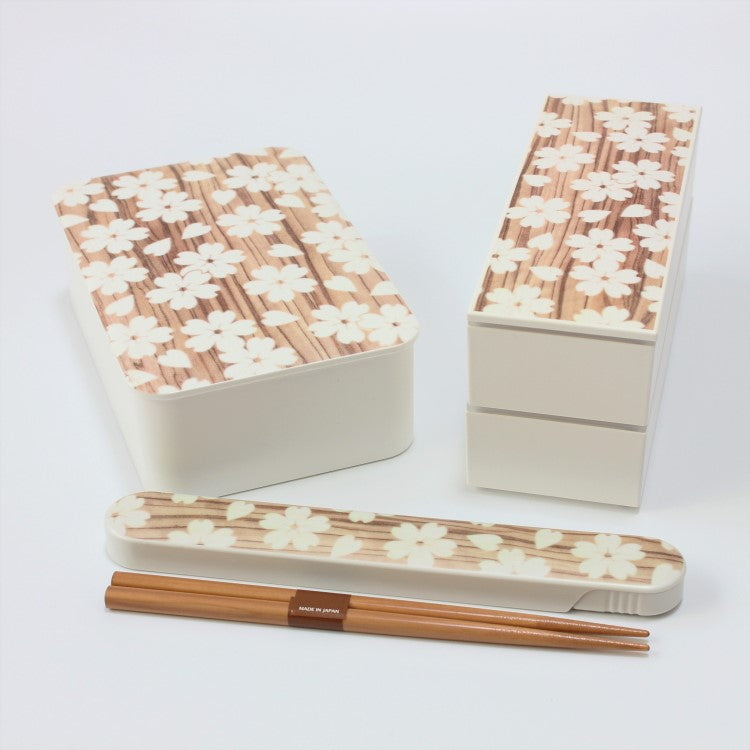 Sakura Mokume Chopsticks With Case Set - White
Shipping rates: Orders under $30: $6 Orders between $30 and $75: $8.90 Orders above $75: $4.90 We only ship within Australia at this time.
White sakura cherry blossum flowers drift along a wooden backdrop case in this chopsticks set that pairs with the Sakura Mokume series bento box. A wooden pair of chopsticks accompanies the beautiful case. Keep your chopsticks clean and your bag from getting stained after your meal with this chopsticks set. 
For other chopsticks choices, view our Ohashi collection. 
Product details
Made in Japan
Length of chopsticks: 18cm 
Dimensions of case: 19.5cm (L) x 2.7cm (W) X 1.3cm (H)
Total weight: 46g
Case material: ABS (BPA-free)

Chopsticks material: Natural wood
All of our items are stocked in and ships from Sydney. Orders are shipped within 2 business days, but are usually dispatched the same or next business day.
Flat rate shipping (outside of shipping offers):
Standard (2-8 business days):
- $8.90
- $6 (orders under $30)
- $4.90 (orders over $75)
Express (1-4 business days):
- $16
- $12 (orders over $75)
Unfortunately we do not offer free shipping at this time as we are still growing and most of our items are bulky. We hope to help our customers with free shipping in time.
We currently do not offer international shipping.
Thanks for your understanding and support!
More shipping information here.
Returns
30 day return policy for a refund due to change of mind, provided the item has not been opened or used. Shipping fees to be covered by the customer in these instances.
We do individually check each item when it is packed. If for any reason there is a defect or an item is damaged during shipping, rest assured we will provide a full refund, or you can choose for a new item to be sent (please provide evidence of the damage). We cover shipping fees in this case.
More information on returns here.
How long does shipping take? 
Orders are packed and shipped within 2 business days, although over 95% of our orders are packed and shipped within 1 business day.
Delivery times will then take between 2-8 business days for standard shipping (by Sendle or Australia post), or 1-4 business days for express Australia post shipping, depending on the carrier status. We currently do not ship internationally.
Where are our chopsticks sourced from? 
Our chopsticks are sourced from and made in Japan. 
Why do the chopsticks have pointed tips? 
Japanese style chopsticks are usually pointy at the ends because Japan has a strong culture of eating fish and other seafood. The pointed tips not only allow for easier handling of fish meat and bones, but also other small items commonly found in Japanese food. 
Are the chopsticks dishwasher and microwave safe? 
All of our non-wood, PBT-made chopsticks are microwave and dishwasher safe. They have a temperature tolerance of up to between 160 to 200 degrees Celsius. 
Wooden chopsticks are not microwave or dishwasher safe. Please refer to the descriptions in the individual product page for more guidance.
What materials are the chopsticks made of? 
The non-wood chopsticks are made of a PBT (Polybutylene terephthalate) resin which is a highly durable thermoplastic. The chopsticks have been coated with a urethane coating commonly used in wood and plastic cutlery.
The wooden chopsticks are made of Paulownia wood, and not dishwasher or microwave safe.
Why are there marks around the necks of the slim-necked chopsticks?
Due to the way the chopsticks have been crafted, there may be some markings left on the chopsticks' curved necks. This is only present on some variations, and not present on double coated variations. This is a remnant of the coating process and unfortunately cannot be easily controlled during manufacturing. These marks should gradually fade over time. We understand this affects the visual aesthetics of the beautiful chopsticks, so if you are dissatisfied with the looks, please get in touch with us at contact@majimelife.com.au. 
How long are the chopsticks? 
Please refer to the individual product page description.
What is Majime Life about?
My name is Ken and I run this small business of wanting to introduce more Japanese bento culture into Australia. I'm based in Sydney, and I started this business during the pandemic after quitting my full-time job to find and fulfill something I am passionate about.
Is Majime Life a legitimate business?
Yes! I started this business in 2021 and growing it as an online store. All stock are imported directly into Sydney, and dispatched from Sydney. No dropshipping.
You can check out our google reviews by doing a quick google search.
More here: FAQ - Chopsticks
Usage and care information for the Ohashi Collection Chopsticks
Please wash your new chopsticks before first use. 
The non-wood chopsticks are dishwasher, microwave and dryer (steriliser) safe. 
The non-wood chopsticks have a temperature tolerance of up to 200 degrees Celsius, except those with an extra natural lacquer coating, which have a temperature tolerance of up to 160 degrees Celsius. This is indicated on the product page. 
For wooden chopsticks, do not use in dishwasher.
Avoid using hard scrubbers or hard sponges for washing, as these may damage the coating over time. 
Due to the coating process during manufacturing of the non-wood chopsticks, some chopsticks may display visible white markings around the curved neck. This is normal and not a defect, and will gradually fade through usage.
More info:
Matched the Bento Box
I bought these with the matching bento box.
Love that the case closes securely, and that the pointed part chopsticks are slightly roughly textured to make it easy to grab the food. Much easier to use than the slippery plastic ones I replaced these with.
That's great Fiona, and yes it's a perfect match with the bento box :)
Beautiful chopsticks
I bought it with a same pattern lunch box .
It's simple design and beautiful pattern.
I like it so much!
Thank you, and yes it pairs great with the sister bento box. Please enjoy! :)