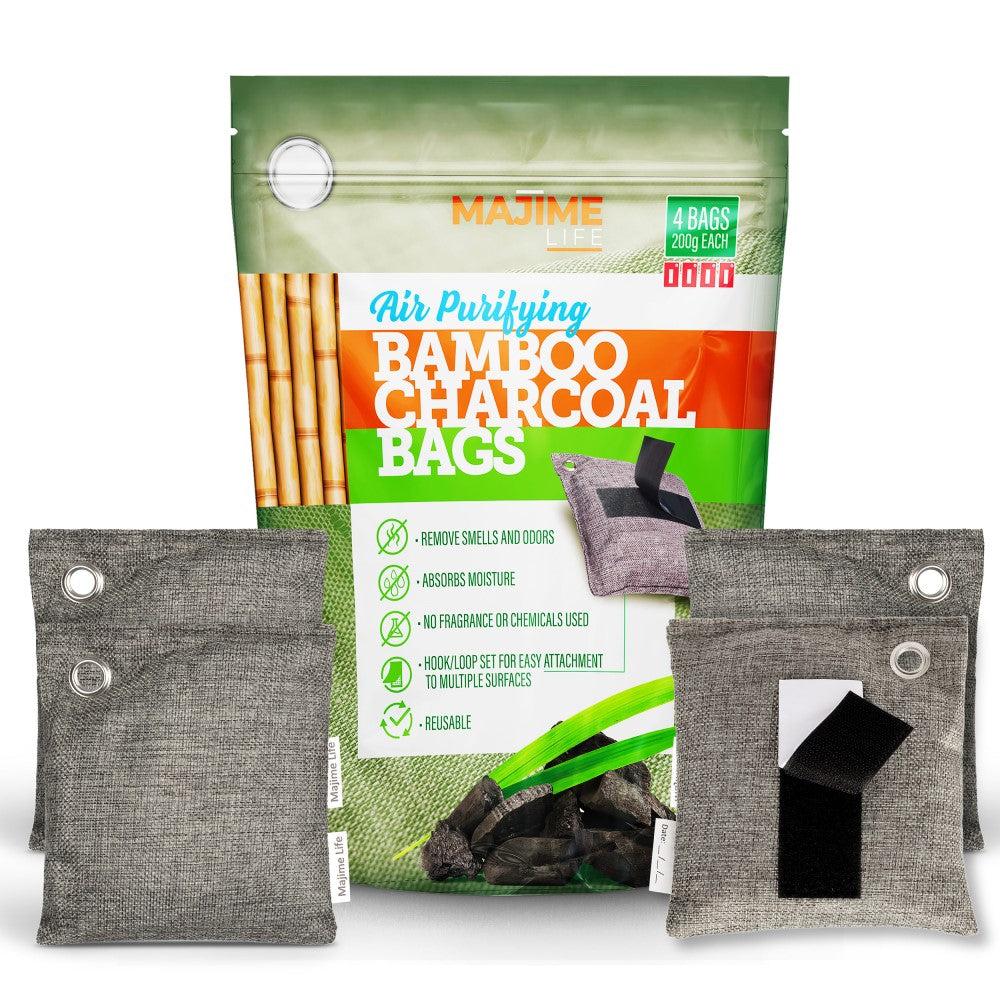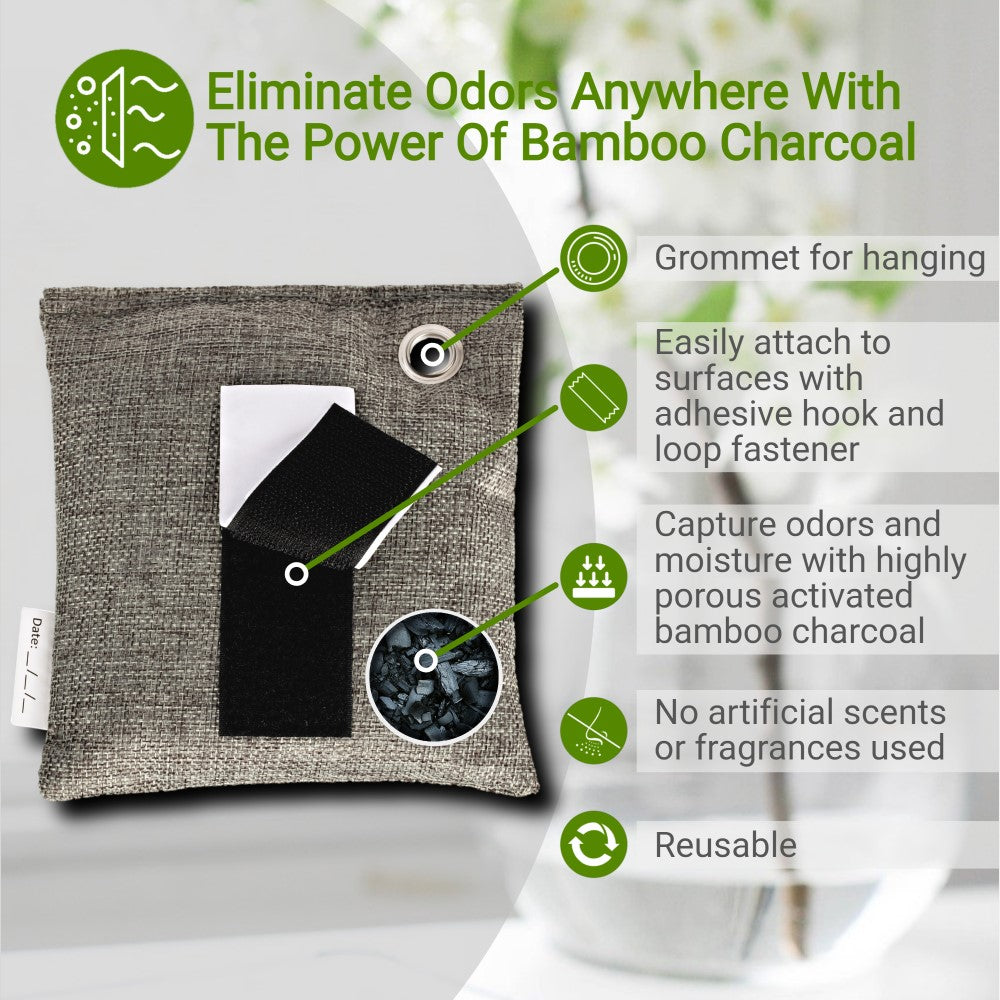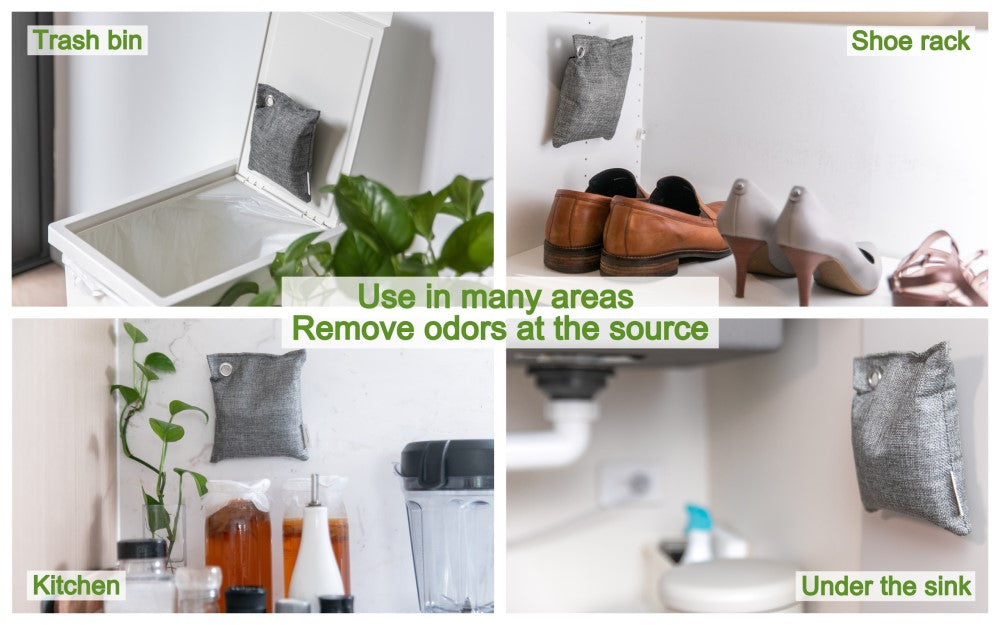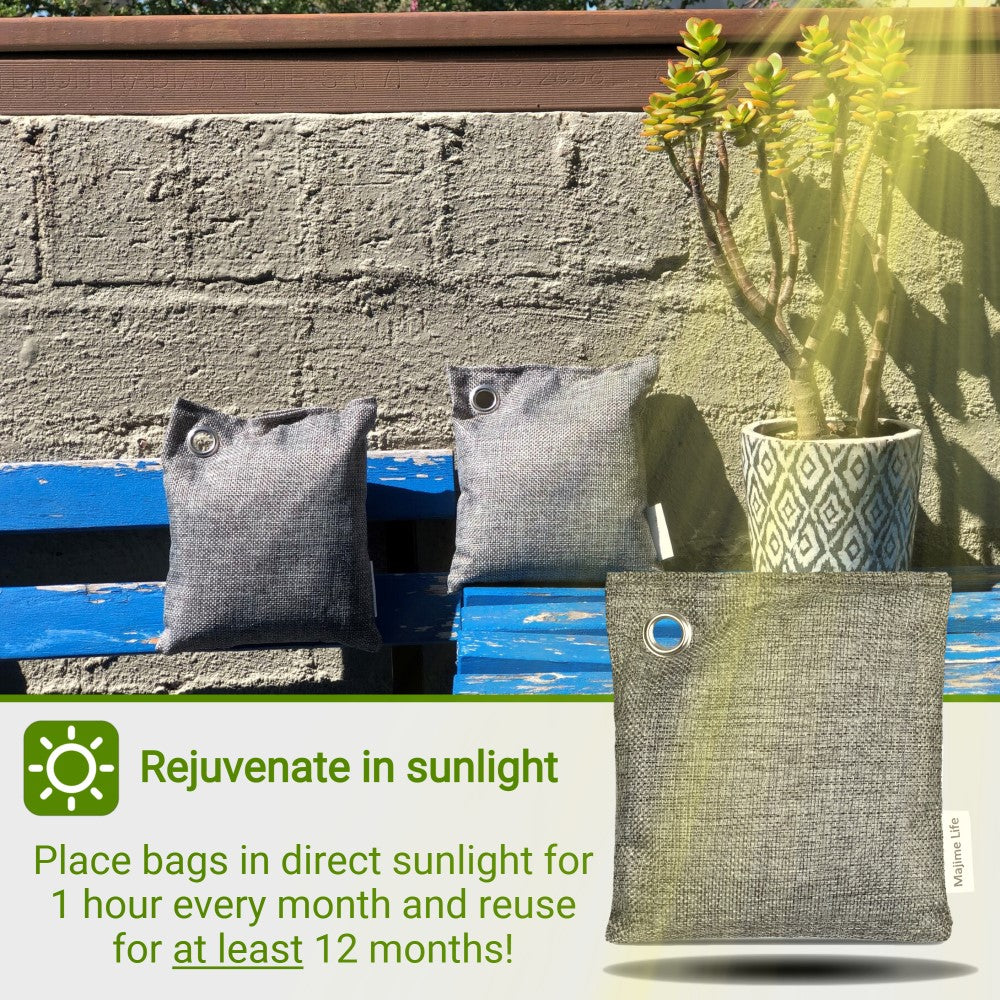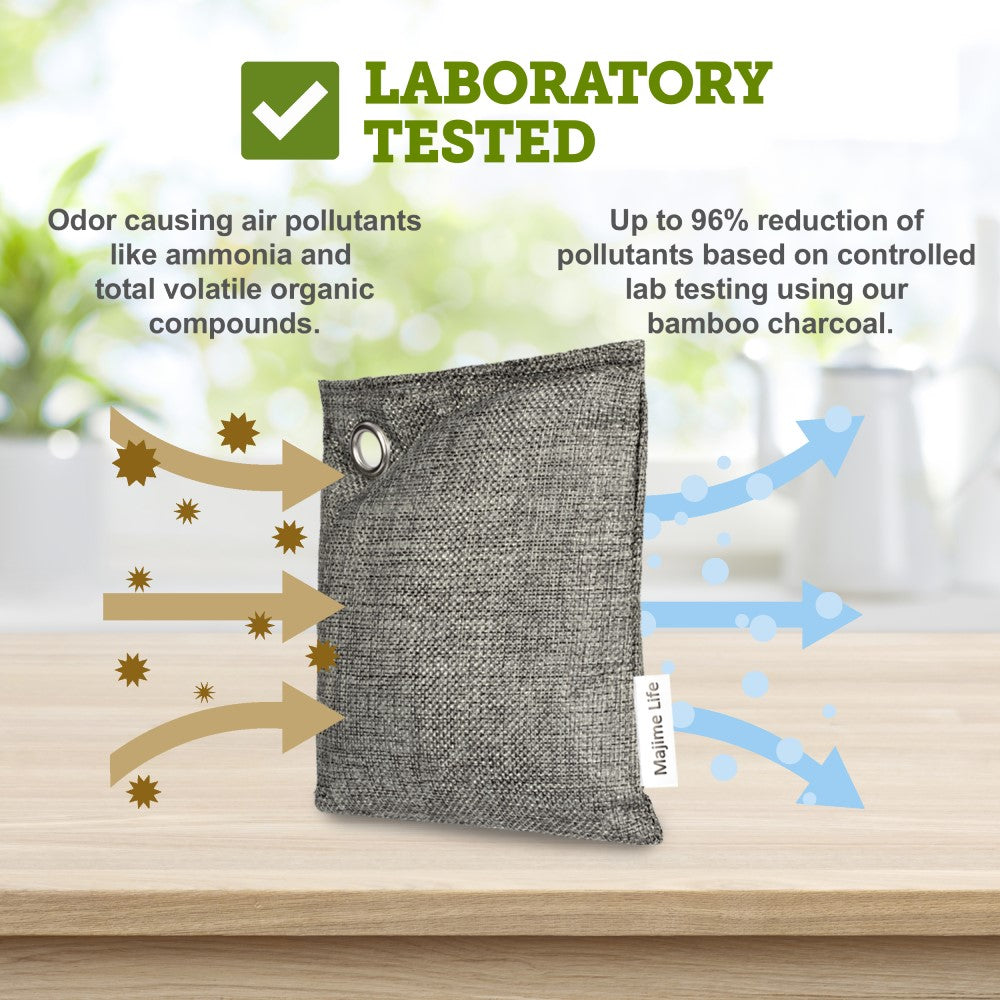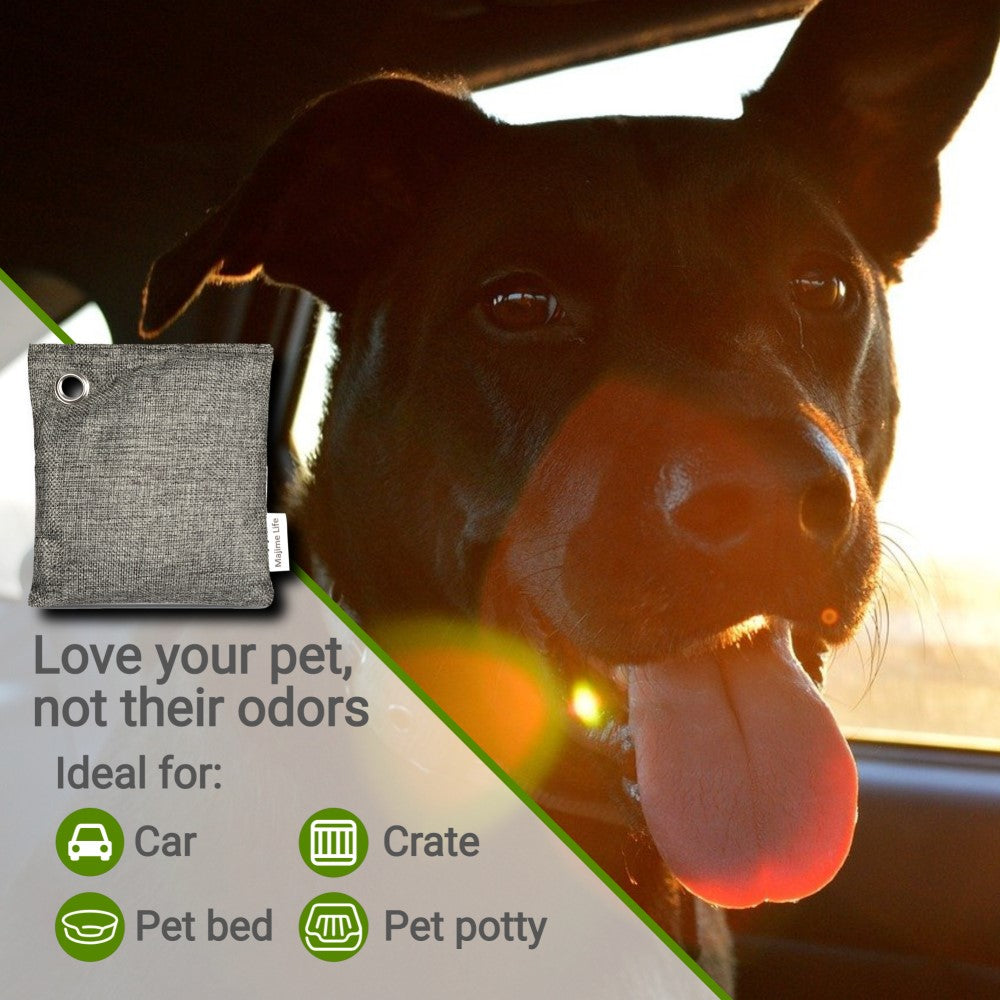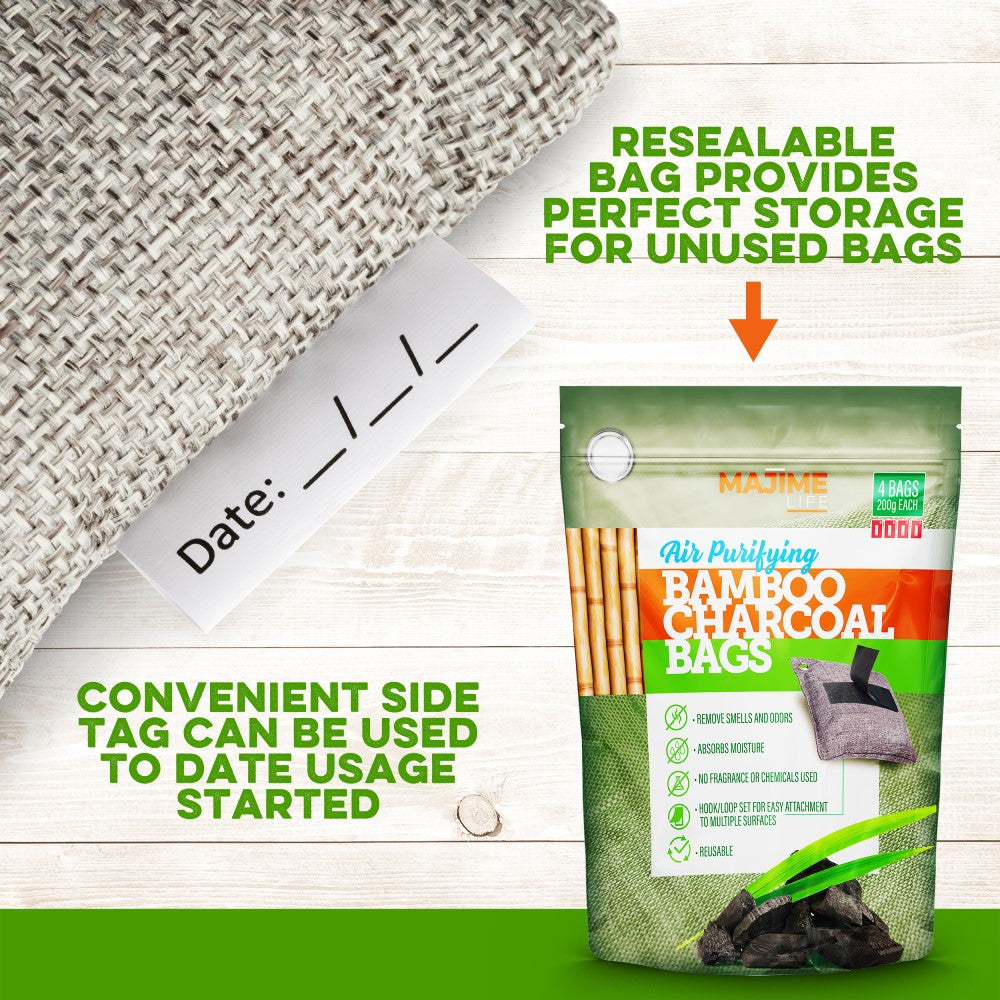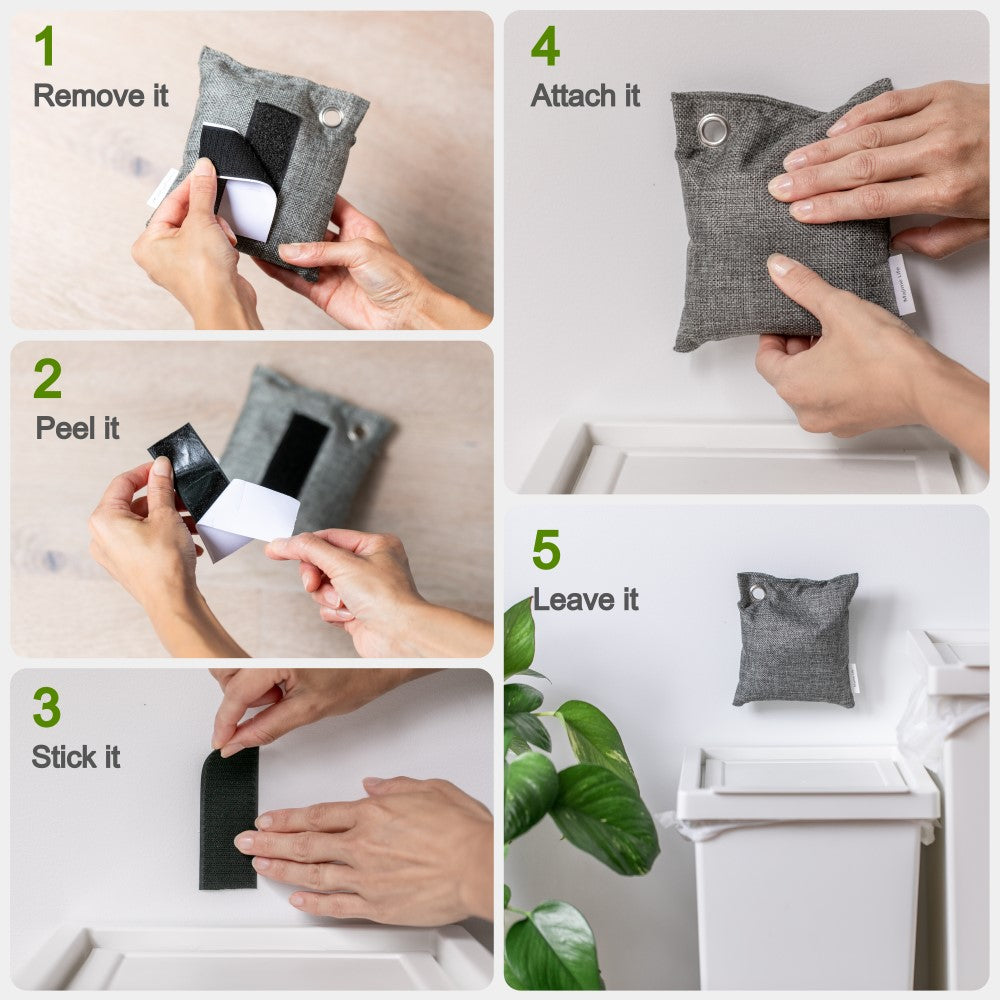 Majime Life Self Adhesive Bamboo Charcoal Air Purifying Bags 4 pack
Shipping rates: Standard shipping: $10 Express shipping: $18 See shipping information below. We only ship within Australia at this time.
What are Bamboo Charcoal Air Purifying Bags?
These bamboo charcoal air purifying bags contain highly porous activated bamboo charcoal that effectively absorb odour causing molecules and moisture from the air. Install anywhere and control odours at the source. Ideal for closets, lockers, cars, under sinks, shoe racks, gym bags and anywhere odours lurk. 
Use Anywhere You Need It
The easy to use hook loop fastener design and grommet conveniently lets you hang or attach these items to a surface in both confined and open areas to save you time, space and hassle. Or just place it anywhere, in or out of sight to let it do its work. 
Don't Worry About Chemicals
These products do not contain any artificial scents, so are a versatile natural alternative to most air fresheners which masks odours. Eliminate odors without worry at home around your kids, pets and loved ones.
Get More Than Just Odour Elimination
Simple design with no large brand label allowing you to seamlessly blend these bags with your existing decor! This 4 pack also comes in a resealable package that lets you store unused bags or used charcoal. The bamboo charcoal is also a great water drainage medium that can also be added to the soil in your garden and pot plants.
Reusable
Rest assured knowing that your bamboo charcoal air purifying bags will be an investment that will last for at least 12 months and up to 24 months. By simply rejuvenating the bags in direct sunlight for 1 hour a month to release the absorbed pollutants and moisture, you are enhancing your charcoal bag's longevity to be used over and over again.

Product details
Total Weight: ~875g
Weight of each bag: ~200g
Total package size: 35cm x 25cm
Size of each bag: 13.5cm x 15cm 
Each bag is made with an outer linen fabric and an inner non-woven fabric that stops charcoal dust from escaping while allowing odour and moisture absorption. 
Each bag comes with a detachable adhesive hook and loop attachment securely sewn on.
Usage instructions
To use the adhesive hook and loop attachment, detach from bag, peel the paper seal and firmly press on a dry surface wiped clean of dust. To remove, slowly peel off from the surface.
The strong adhesive may damage delicate or coated/painted surfaces when removing. If using on such surfaces, cut a small piece to test first on an inconspicuous area. 
To rejuvenate the bamboo charcoal, place bags in direct sunlight for at least 1 hour every month. This will release absorbed molecules. 
Shipping
Flat rate shipping (maximum quantity of 3 per order). Due to the bulkiness of this item, the flat rate shipping fee is slightly higher with no lower fee for orders over $75. Thank you for your understanding.  


Standard shipping (2-8 business days): $10
Express shipping (1-4 business days): $18

If you are ordering a mix of lunchware and charcoal bags, separate shipping fees will apply due to the bulkiness of the charcoal bags. Thank you for your understanding. 
Returns
30 day return policy for a full refund, provided the item has not been opened or used