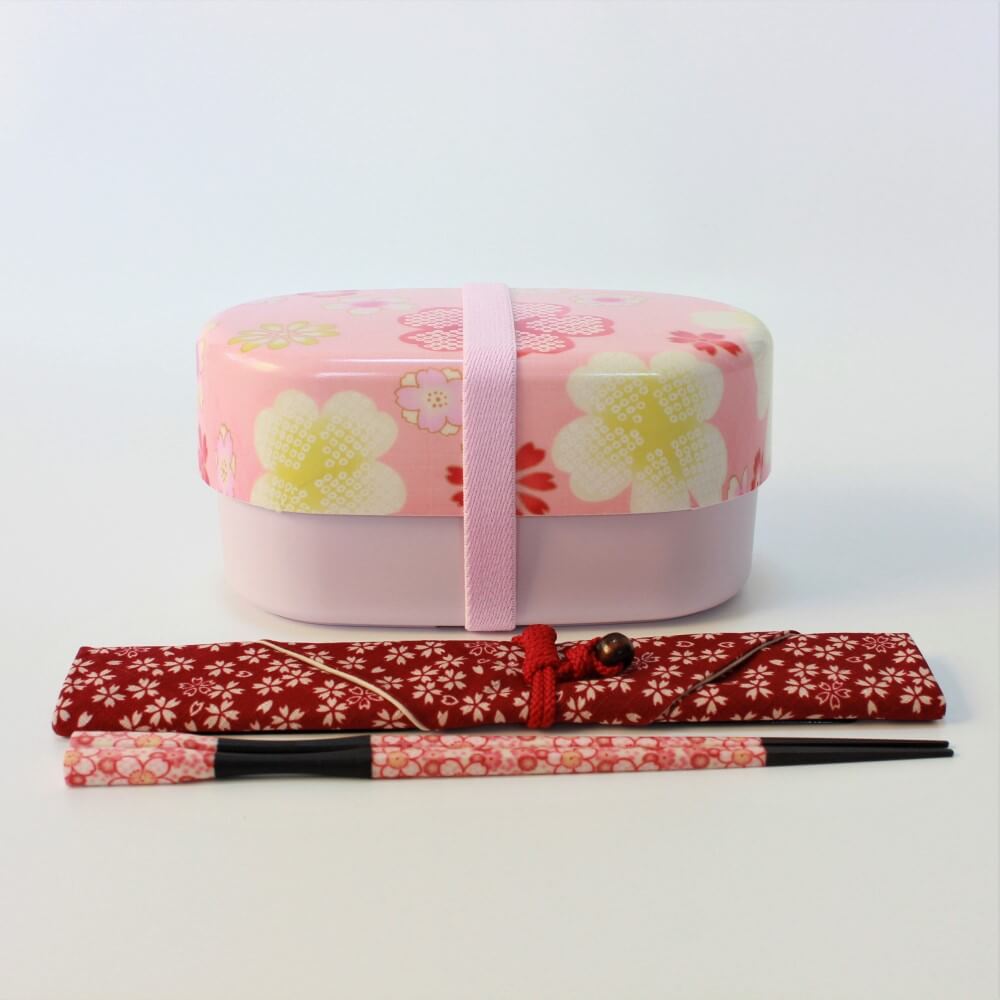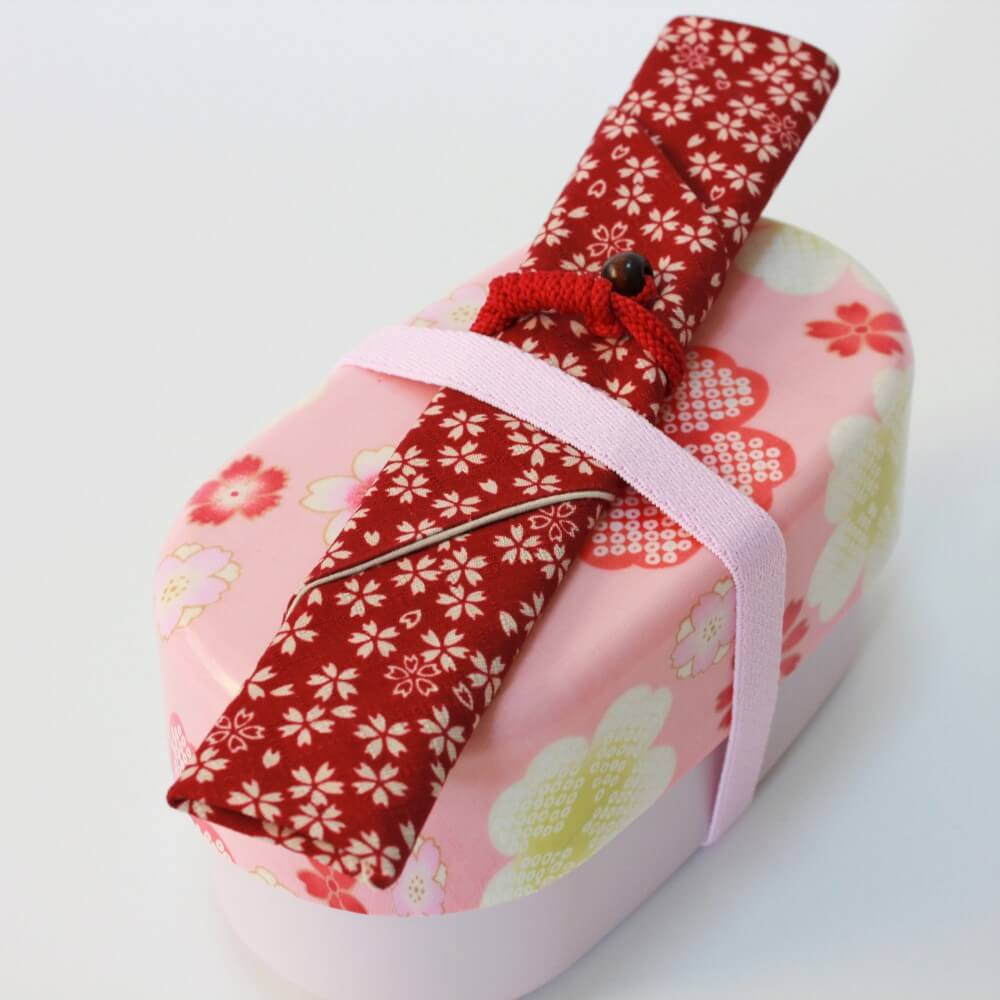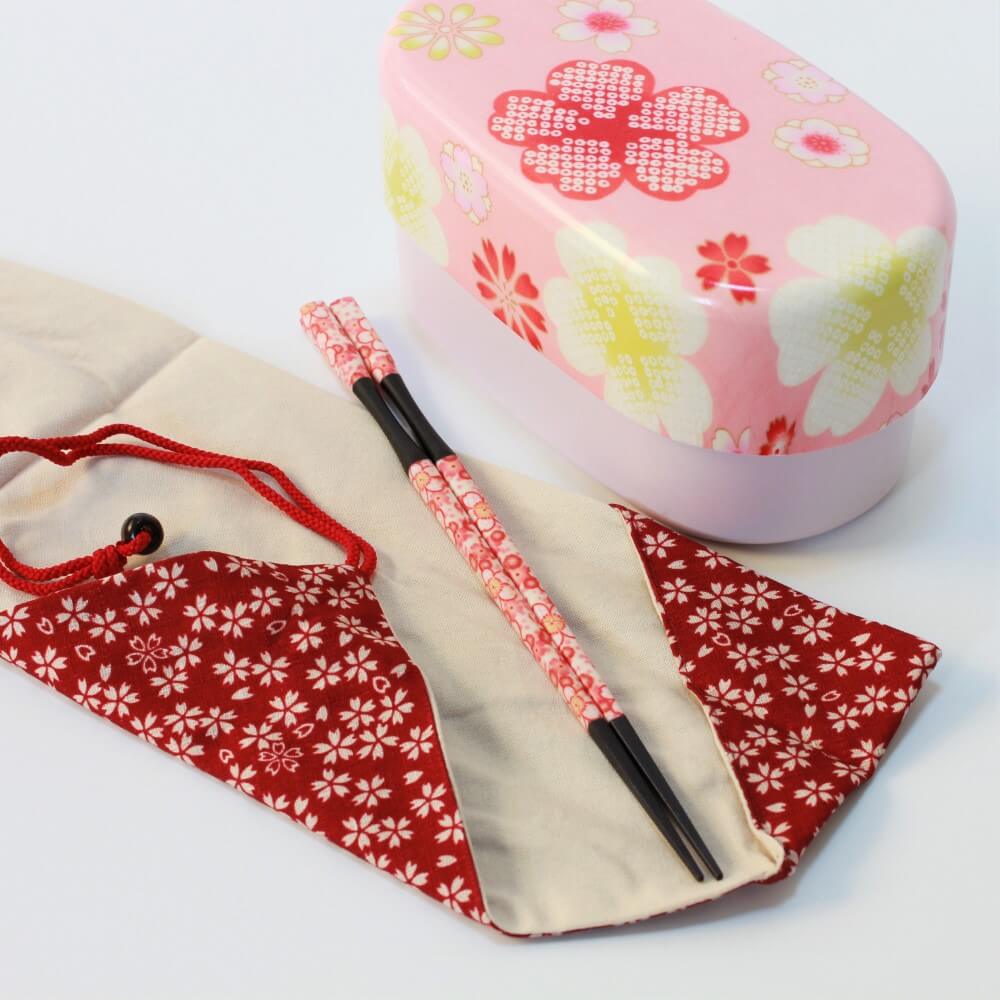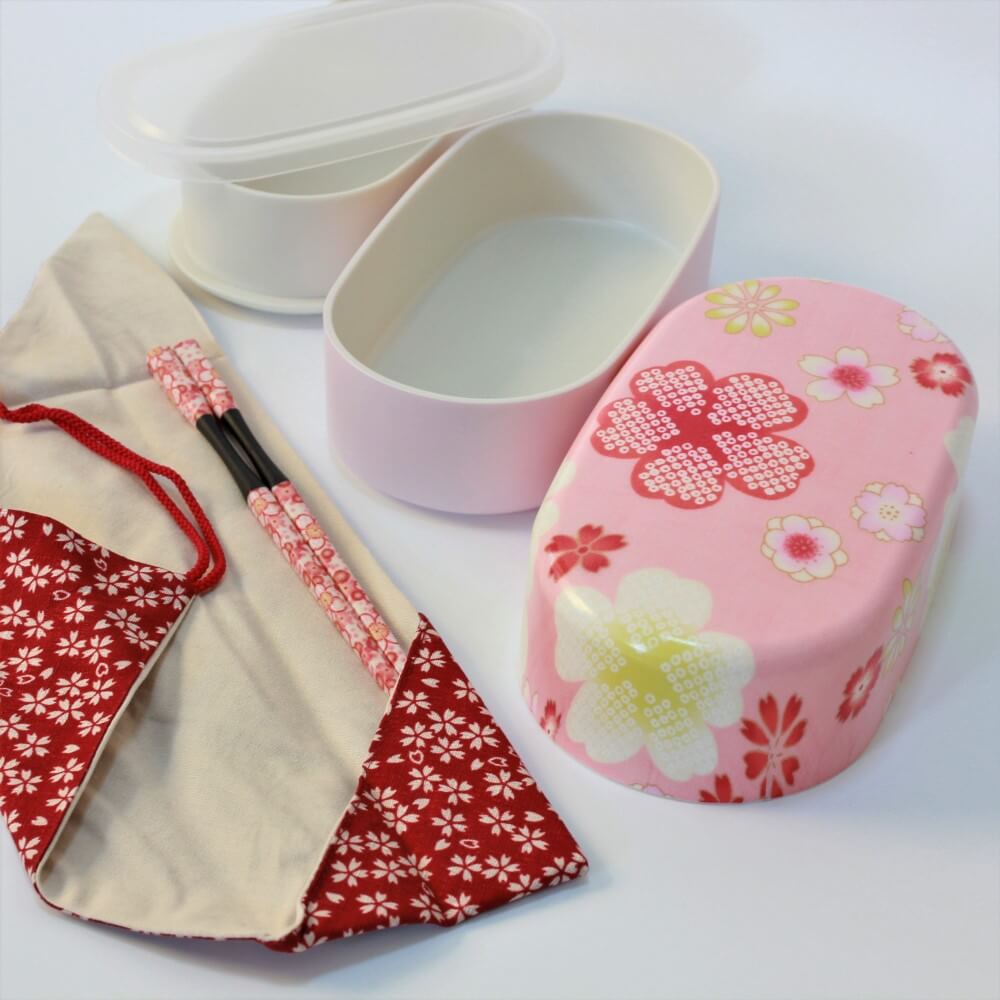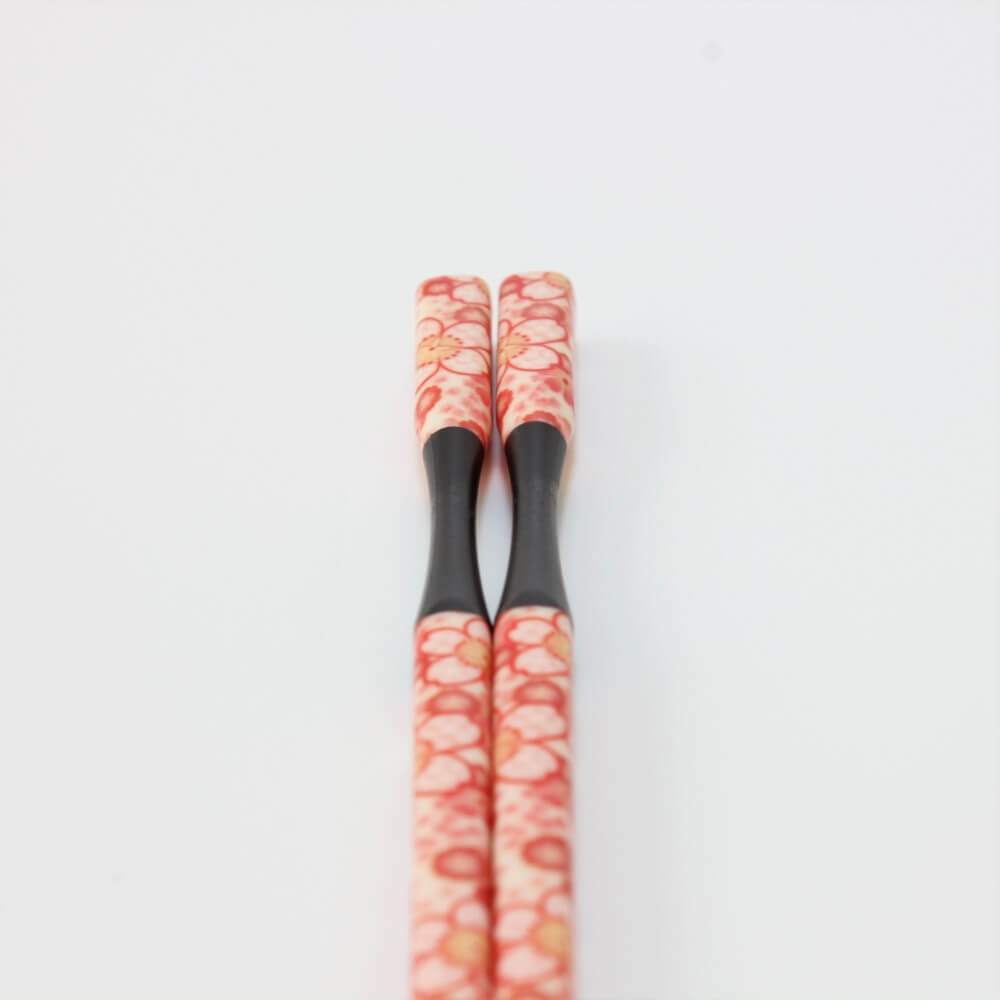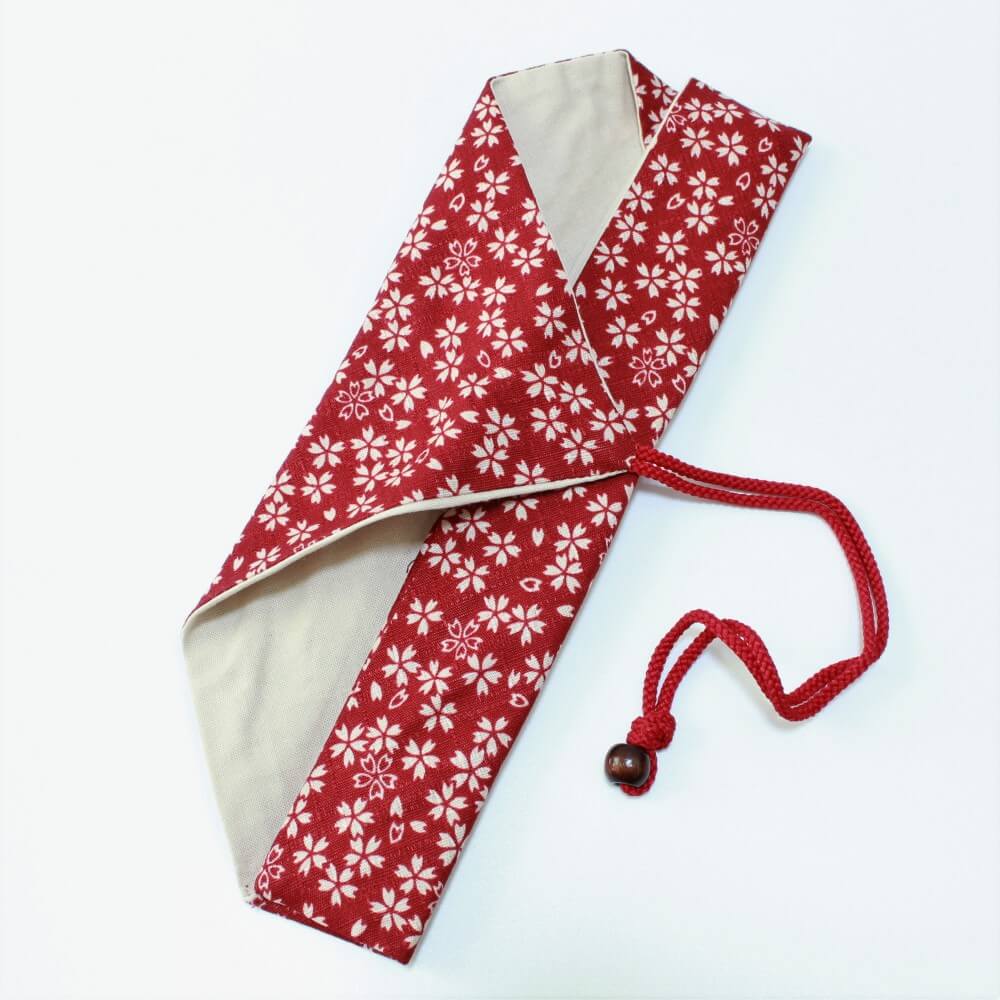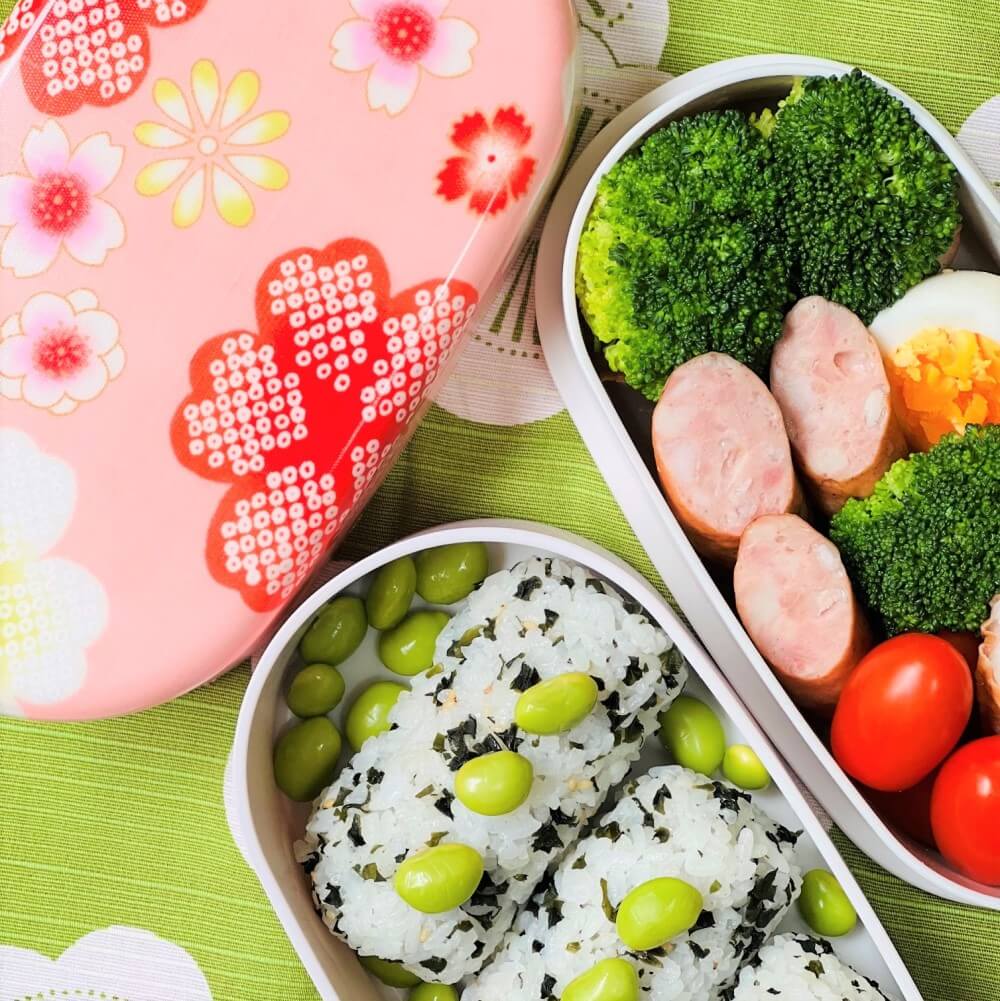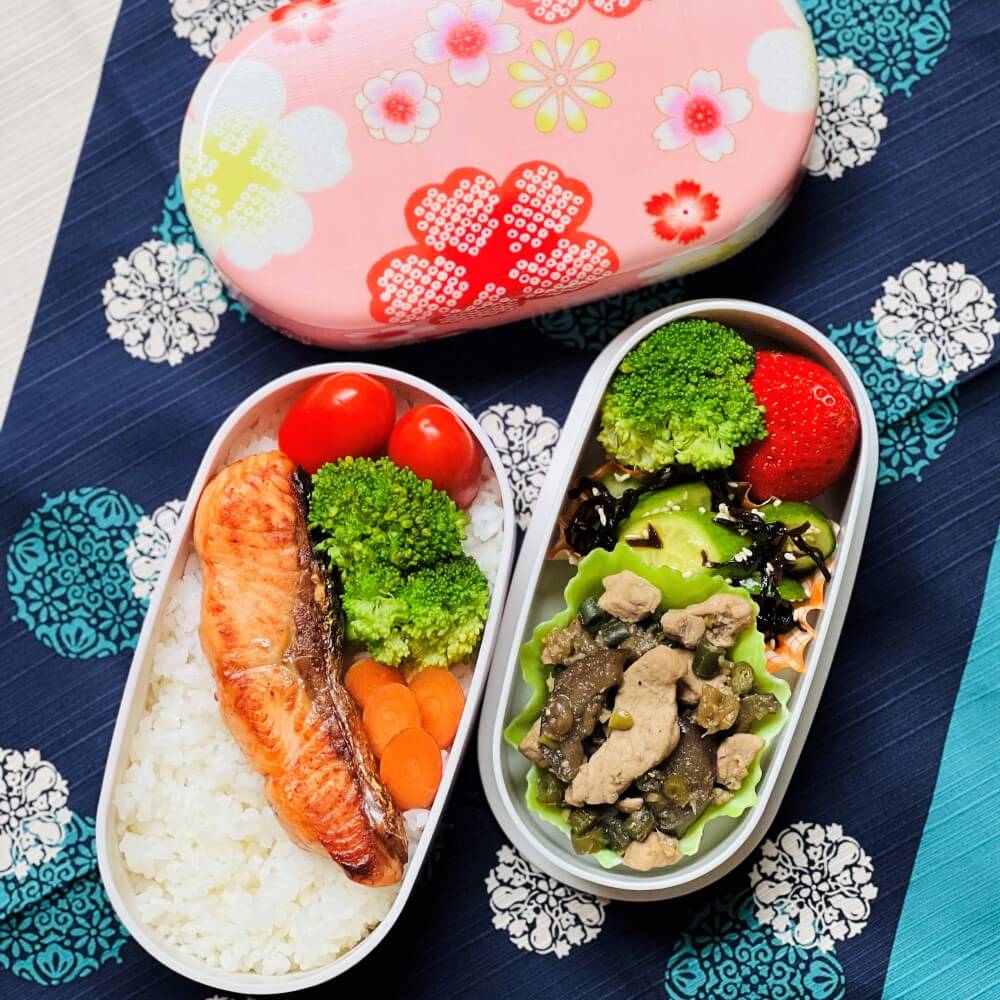 Yume Sakura Chopsticks and Bento Box Set
Shipping rates: Orders under $30: $6 Orders between $30 and $75: $8.90 Orders above $75: $4.90 We only ship within Australia at this time.
This 3 piece set combines the Kimono Yume Sakura Pink 2 Tier Bento Box, the Shunjyuu chopsticks and the Sakura Chirashi red fabric chopsticks case. Enjoy a sakura themed bento set for your next lunch. 
Perfect gift for the lover of Japan and someone who wants to indulge in a Japanese bento experience. 
What you get
3 items - bento box, chopsticks, and a fabric chopsticks case
Save $11.90 off the combined price (almost 15% off) 
All items made in Japan

Total bundle weight: 450g
Note: 10% off first order offer does not apply to this set
Kimono Yume Sakura Pink 2 Tier bento box (Fabric infused lid): 
Total capacity: 830ml (380ml + 450ml compartments).


Dimensions (Full size): 17.9cm (L) × 9.8cm (W) × 8.9cm (H) 

 




Dimensions (Compacted size): 17.9cm (L) × 9.8cm (W) × 5.9cm (H)  

Item weight: 390g

Materials: UPR, PET, ABS, PE; made with BPA-free plastic  



Containers are dishwasher and microwave safe, outer and inner lids are not
Sakura chirashi red fabric chopsticks case:
Can comfortably store chopsticks up to 23cm in length. Chopsticks that are 24cm can also be stored but the wrapping may buldge. 
Dimensions: 24cm (L) x 5.5cm (W) x 1cm (thickness)
Weight: 30g
Material: 100% cotton (case), 100% acryl (string)
Product care: Fabric can be washed in water but do no wash with detergent as it may discolour. 
Curved neck Shunjyuu chopsticks from the Ohashi collection:

Size: 22.5cm (L) x 8mm (diameter)
Weight: 20g
Material: Saturated polyester resin (PBT) with urethane coating
Temperature tolerance: 200 degrees
Microwave, dishwasher and dryer safe
Due to the crafting process of these unique chopsticks, you may notice some markings around the curved necks. This is not a defect and is present to varying degrees depending on the individual item. These markings will fade over time and use. Please do not attempt to sand or scratch the markings off
All of our items are stocked in and ships from Sydney. Orders are shipped within 2 business days, but are usually dispatched the same or next business day.
Flat rate shipping (outside of shipping offers):
Standard (2-8 business days):
- $8.90
- $6 (orders under $30)
- $4.90 (orders over $75)
Express (1-4 business days):
- $16
- $12 (orders over $75)
Unfortunately we do not offer free shipping at this time as we are still growing and most of our items are bulky. We hope to help our customers with free shipping in time.
We currently do not offer international shipping.
Thanks for your understanding and support!
More shipping information here.
Returns
30 day return policy for a refund due to change of mind, provided the item has not been opened or used. Shipping fees to be covered by the customer in these instances.
We do individually check each item when it is packed. If for any reason there is a defect or an item is damaged during shipping, rest assured we will provide a full refund, or you can choose for a new item to be sent (please provide evidence of the damage). We cover shipping fees in this case.
More information on returns here.
How long does shipping take? 
Orders are packed and shipped within 2 business days, although over 95% of our orders are packed and shipped within 1 business day.
Delivery times will then take between 2-8 business days for standard shipping (by Sendle or Australia post), or 1-4 business days for express Australia post shipping, depending on the carrier status. We currently do not ship internationally.
Where are our products sourced from?
Most of our bento boxes and other accessories are sourced and made in Japan to showcase the unique culture and the way bento is made and eaten in Japan. Some items are manufactured outside of Japan due to sourcing limitations, but our primary goal is to showcase designs, concepts and ideas that come from Japan. You will find the country of manufacture on all product pages. 
Are our bento boxes leak proof? 
No, our bento boxes are not 100% leak proof. Many of our boxes do have an internal lid which stops leakage of wet foods, but it is not recommended to put liquid foods like soup into the containers. 
Are our bento boxes microwave and dishwasher safe? 
The main body or containers of most of our bento boxes are microwave and dishwasher safe. Due to the material used, outer and inner lids are generally not microwave or dishwasher safe. Please refer to the product pages for more guidance, as well as the product care page.
Our bento boxes also have labels attached when you receive them. Picnic bento boxes are generally not microwave or dishwasher safe, but please refer to the product pages for guidance. 
What materials are our bento boxes made from? 
The main body and outer lids are generally made from PET (Polyethylene Terephthalate) and ABS (Acrylonitrile butadiene styrene) resin mixtures or just ABS resin or UPR (Unsaturated Polyester Resin). Inner containers are generally made from Polypropylene (PP), and inner lids are generally made from Polyethylene (PE). All materials are BPA (Bisphenol A) free. Please refer to our product care page for more information.
How large are the one and two tier standard sized and picnic bento boxes? 
Please refer to the individual product page which will detail the size and content volume of the bento boxes.
What is Majime Life about?
My name is Ken and I run this small business of wanting to introduce more Japanese bento culture into Australia. I'm based in Sydney, and I started this business during the pandemic after quitting my full-time job to find and fulfill something I am passionate about.
Is Majime Life a legitimate business?
Yes! I started this business in 2021 and growing it as an online store. All stock are imported directly into Sydney, and dispatched from Sydney. No dropshipping.
You can check out our google reviews by doing a quick google search.
More here: FAQs - Bento Boxes
Please refer to this page: