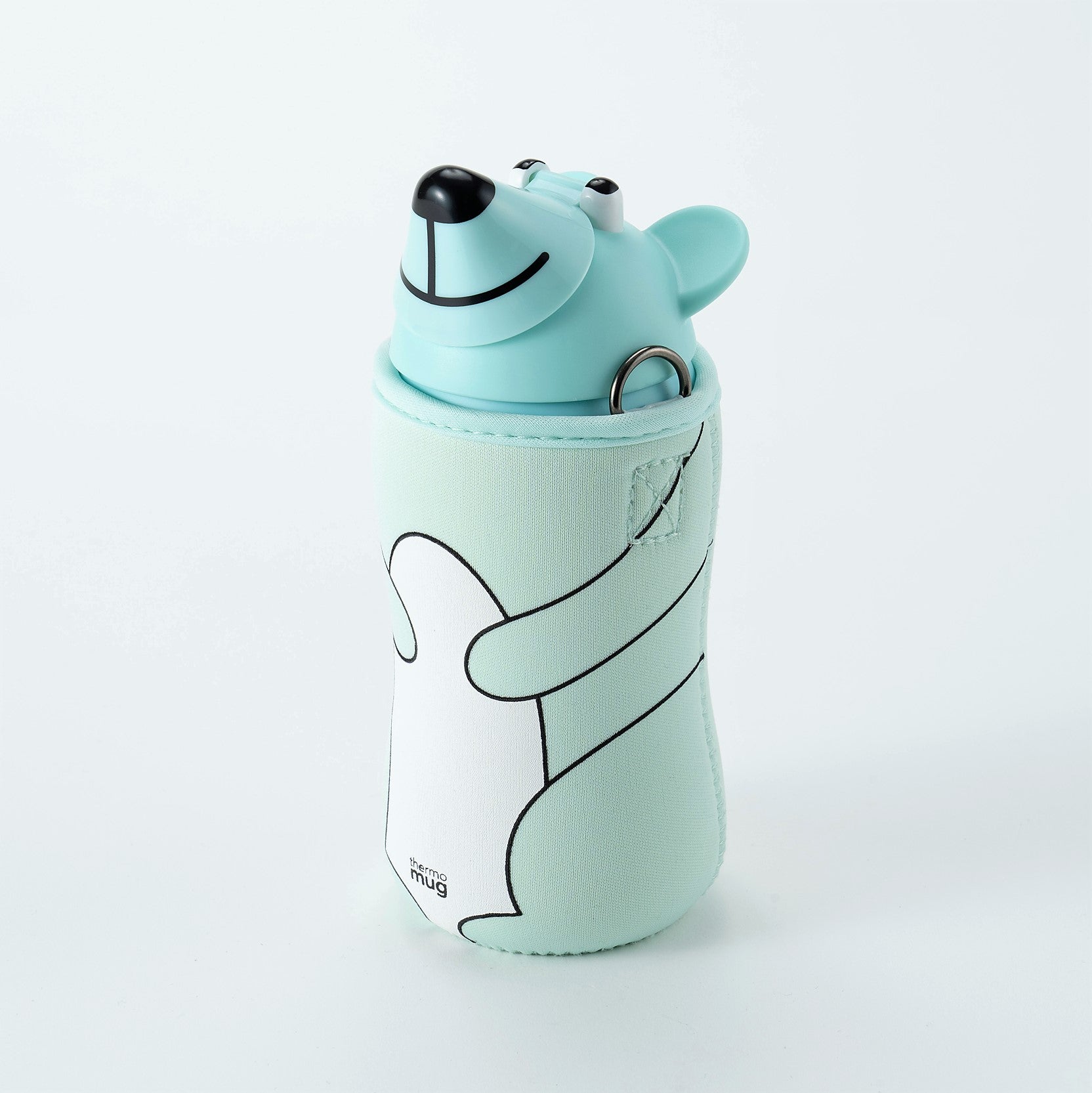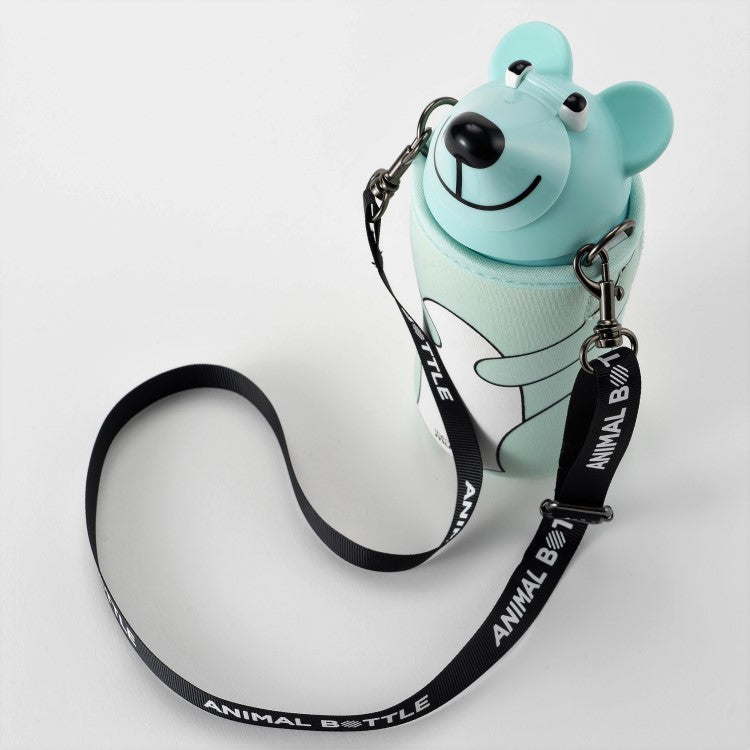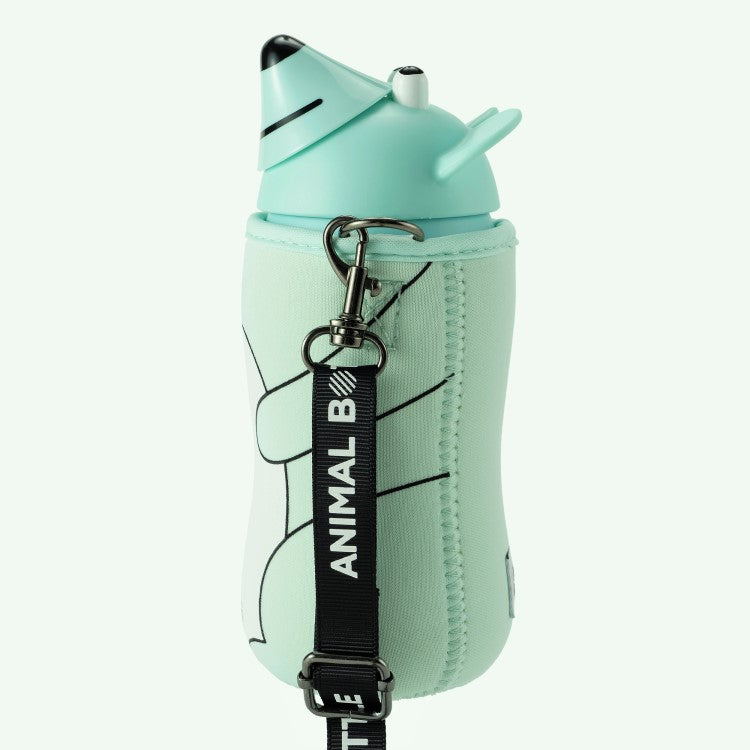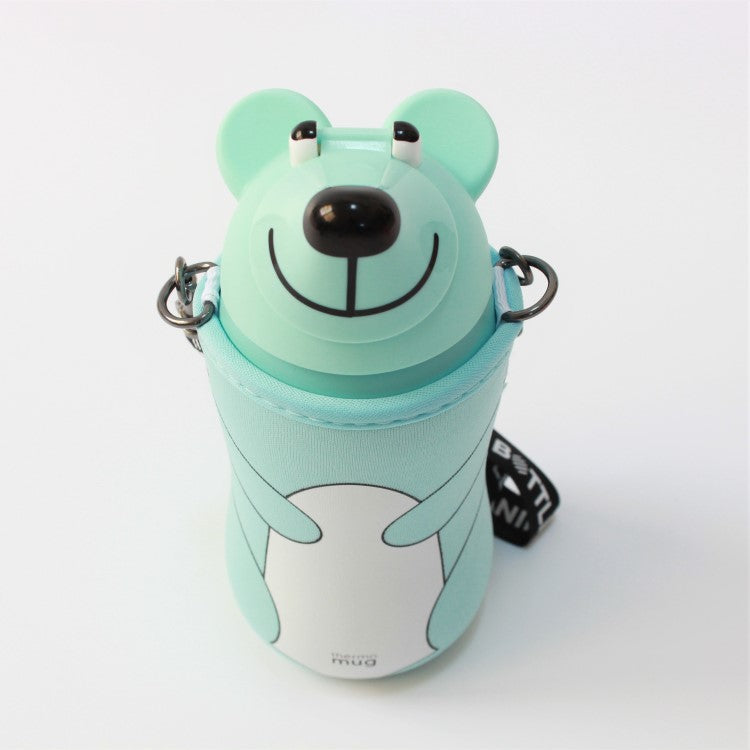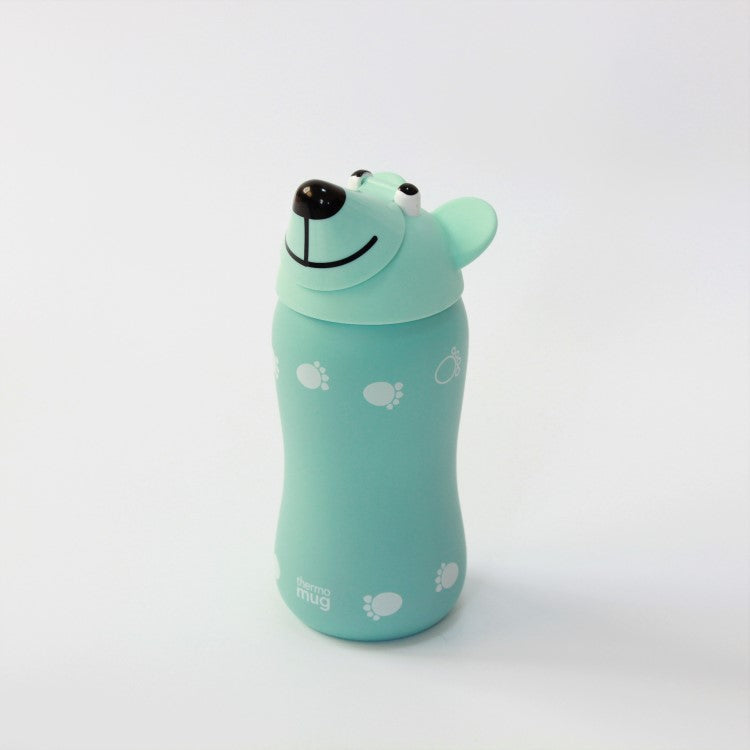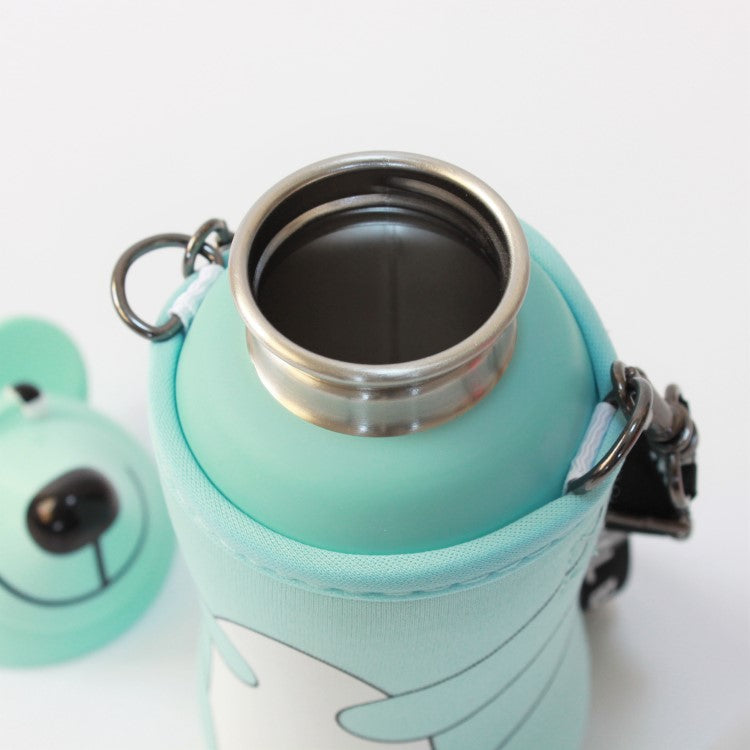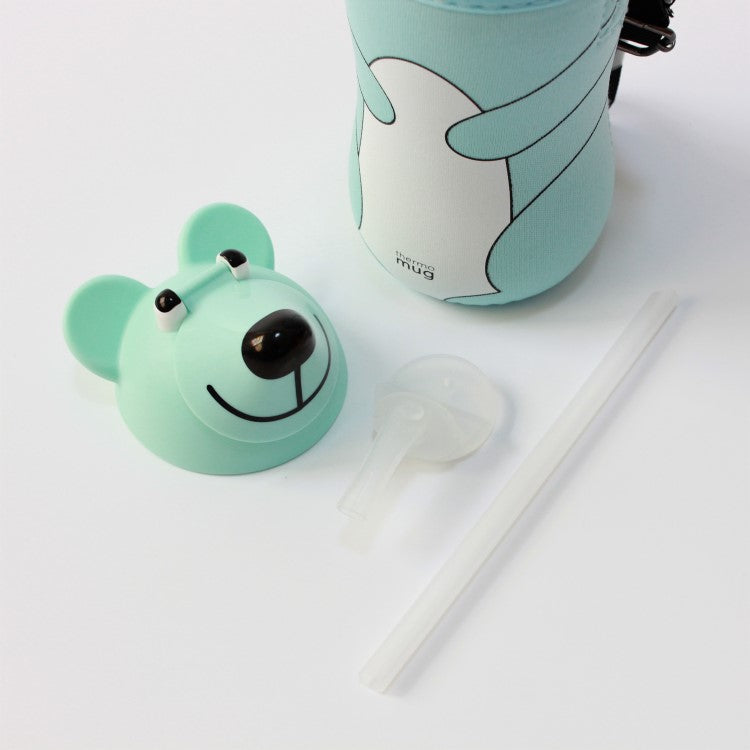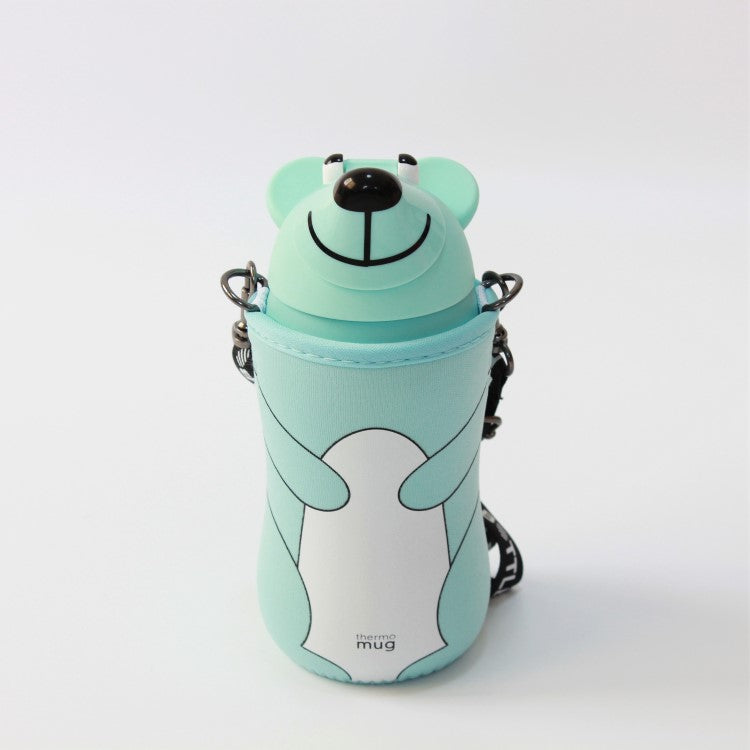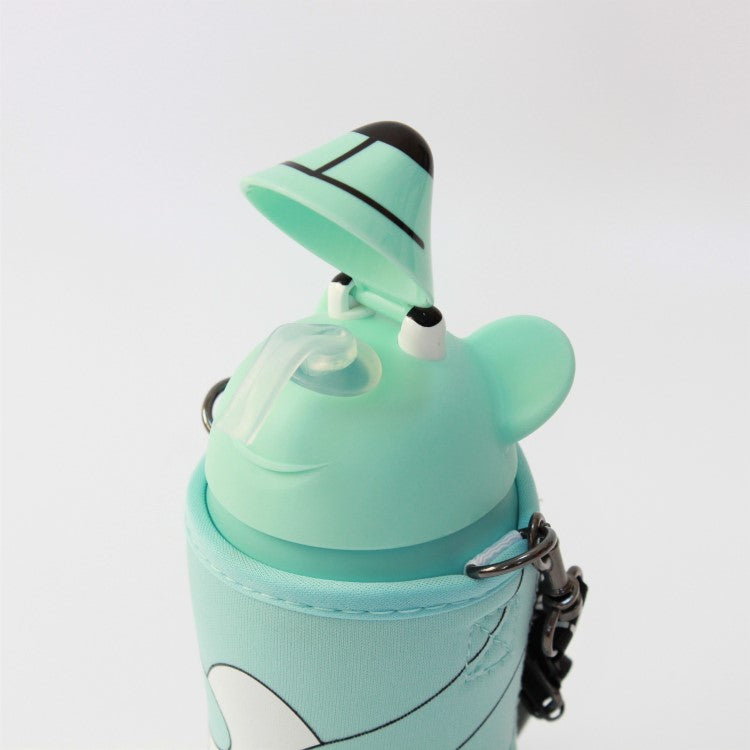 Animal Bottle Bear | Ice Blue | from thermo mug
Shipping rates: Orders under $30: $6 Orders between $30 and $75: $8.90 Orders above $75: $4.90 We only ship within Australia at this time.
This drink bottle from the thermo mug animal bottle series is sure to grab the attention and love of kids. Designed by thermo mug Japan, the animal 'bear' bottle is hugged by a cute jacket making it look like it's just waiting to be drank from. And that smiley face on the lid with the cute ears just make you want to look at it all day. 
At only 180g, it's lightweight and easy for kids to carry around even at the full 380ml volume. The adjustable strap makes it look like kids are carrying around a toy bear and best companion. And with the cover off, bear paw prints cover a curved body for an easier grip. 
With the body made of high quality 18-8 stainless steel, it's not just another plastic drink bottle. Perfect to indulge your mini-me or as a unique gift! Use as a water bottle or juice bottle - it might not matter to your kids (or yourself) anymore! 

Features: 
Very cute
Lightweight at 180g (with the jacket)
Jacket is washable
Tightly fitting jacket to prevent the bottle from falling out
Adjustable straps on the jacket
Curved straw for easy drinking
Detachable straw for cleaning
4cm mouth when uncapped for easier cleaning

Curved body design for easier holding
Product details
Designed in Japan
Capacity: 380ml (more than a standard soft drink can)
Dimensions: 6.8cm (diameter), 165cm (height)
Weight (with jacket): 180g
Body material: 18-8 stainless steel
Lid: ABS resin and polypropylene
Straw and seals: Silicone rubber
Jacket cover: Acrylic
Temperature retention test:
The bottle is not an insulated drink bottle. 
Starting water temperature: 

 4°C ± 1°C

Bottle is closed properly with lid, and left at a room temperature of 20°C ± 2°C. 
| | | |
| --- | --- | --- |
| Starting temperature |  After 1 hour | After 2 hours |
| 4°C ± 1°C | 12°C or less | |
All of our items are stocked in and ships from Sydney. Orders are shipped within 2 business days, but are usually dispatched the same or next business day.
Flat rate shipping (outside of shipping offers):
Standard (2-8 business days):
- $8.90
- $6 (orders under $30)
- $4.90 (orders over $75)
Express (1-4 business days):
- $16
- $12 (orders over $75)
Unfortunately we do not offer free shipping at this time as we are still growing and most of our items are bulky. We hope to help our customers with free shipping in time.
We currently do not offer international shipping.
Thanks for your understanding and support!
More shipping information here.
Returns
30 day return policy for a refund due to change of mind, provided the item has not been opened or used. Shipping fees to be covered by the customer in these instances.
We do individually check each item when it is packed. If for any reason there is a defect or an item is damaged during shipping, rest assured we will provide a full refund, or you can choose for a new item to be sent (please provide evidence of the damage). We cover shipping fees in this case.
More information on returns here.
How long does shipping take? 
Orders are packed and shipped within 2 business days, although over 95% of our orders are packed and shipped within 1 business day.
Delivery times will then take between 2-8 business days for standard shipping (by Sendle or Australia post), or 1-4 business days for express Australia post shipping, depending on the carrier status. We currently do not ship internationally.
How long does the bottle keep the drink hot or cold?
Please refer to the product page description for details.
Where are the bottles sourced from?
The drink bottles are Japanese brands but are made in China. Some of the bottles have extra finishing process that are carried out by Japanese craftspeople. For example, coating of Japanese lacquer on the Karakusa Umbrella bottle.
Are there spare seals and spouts?
Yes there are, but we do not stock spares in Sydney and will have to order these from Japan.
What is Majime Life about?
My name is Ken and I run this small business of wanting to introduce more Japanese bento culture into Australia. I'm based in Sydney, and I started this business during the pandemic after quitting my full-time job to find and fulfill something I am passionate about.
Is Majime Life a legitimate business?
Yes! I started this business in 2021 and growing it as an online store. All stock are imported directly into Sydney, and dispatched from Sydney. No dropshipping.
You can check out our google reviews by doing a quick google search.
Please refer to this page:
so cute!
I got this for my two year old daughter for her birthday and she LOVES it! It is so cute and keeps her water cold which is a must in Australia.
And it's a bonus that we can get replacement straws from this store too!
Thanks alot Angela :) 2 year olds seem to love these bottles. So happy yours does too. Yes please check back if you ever need a replacement straw.