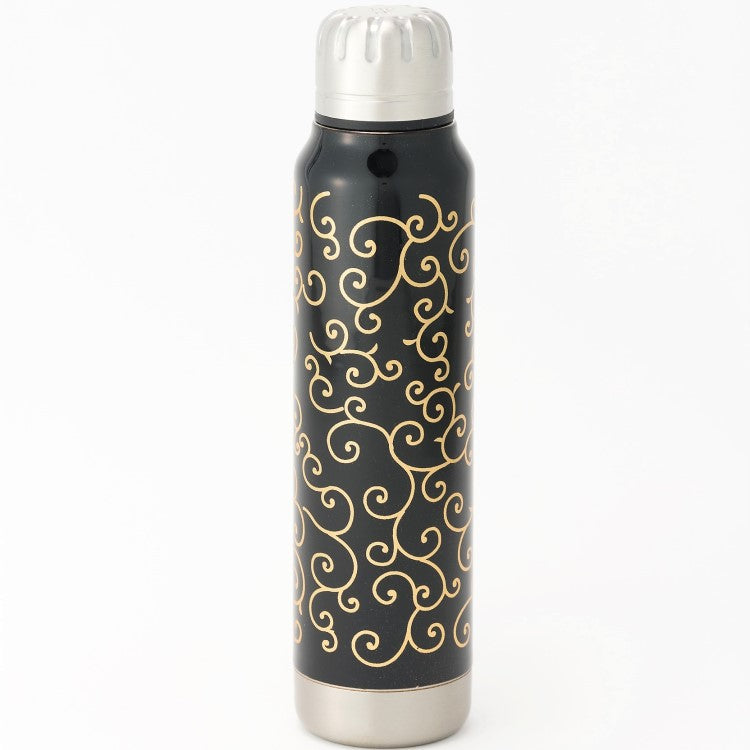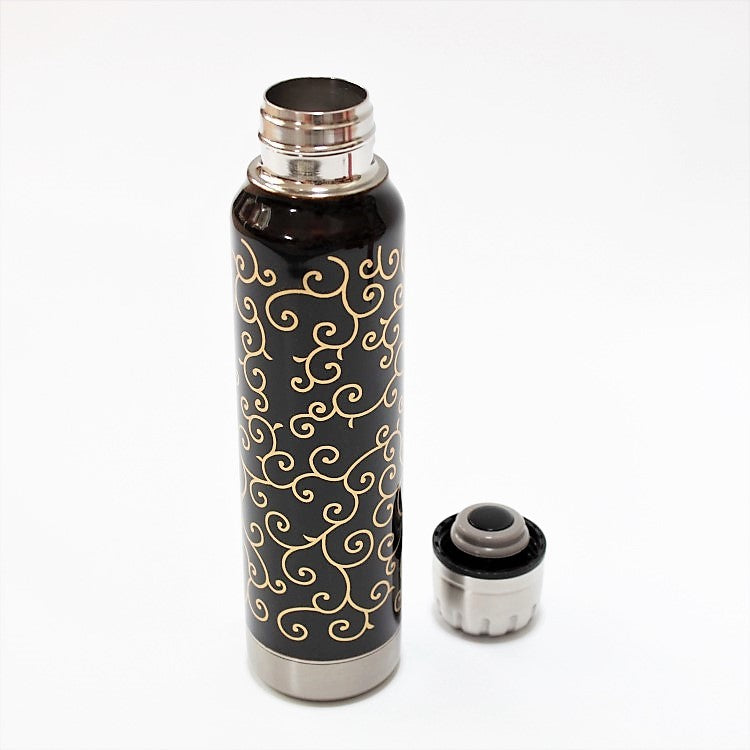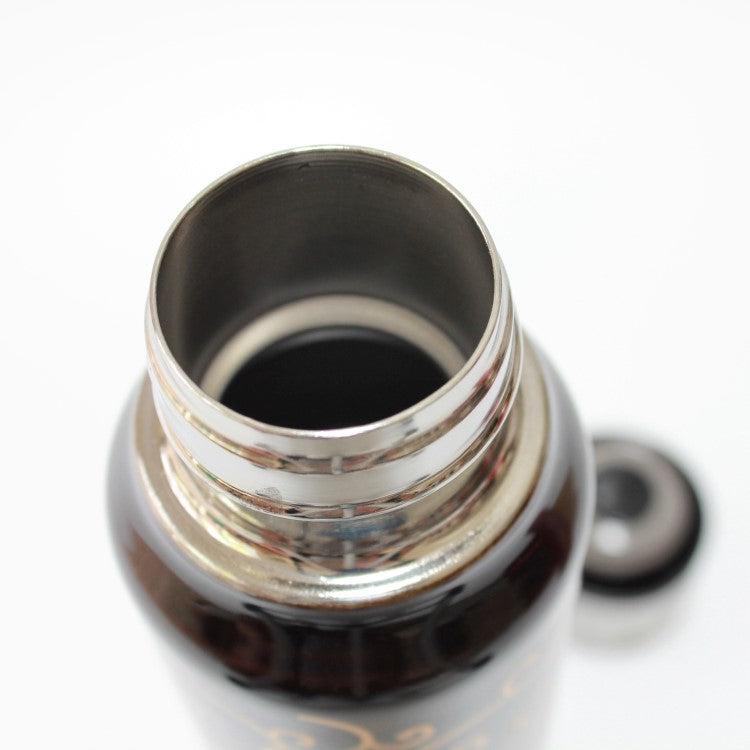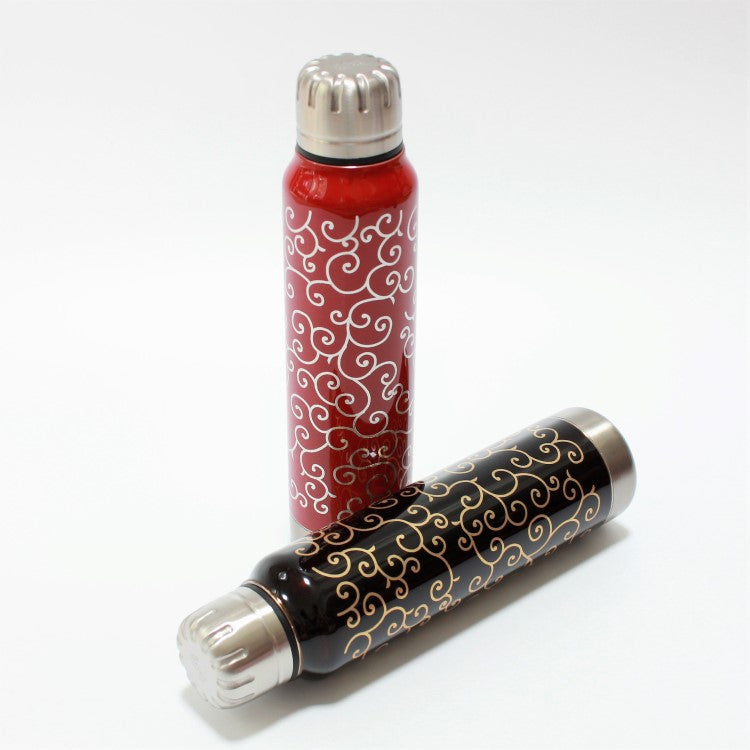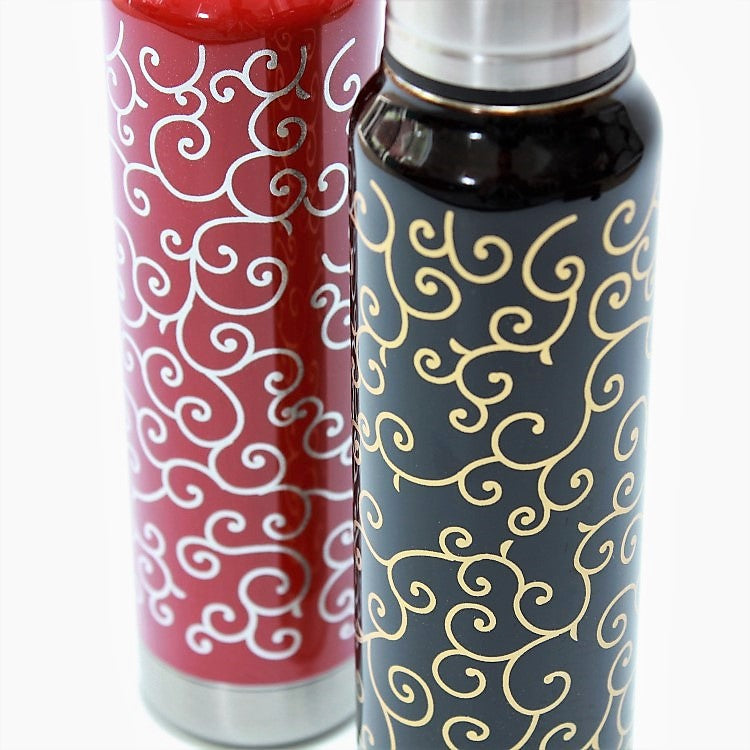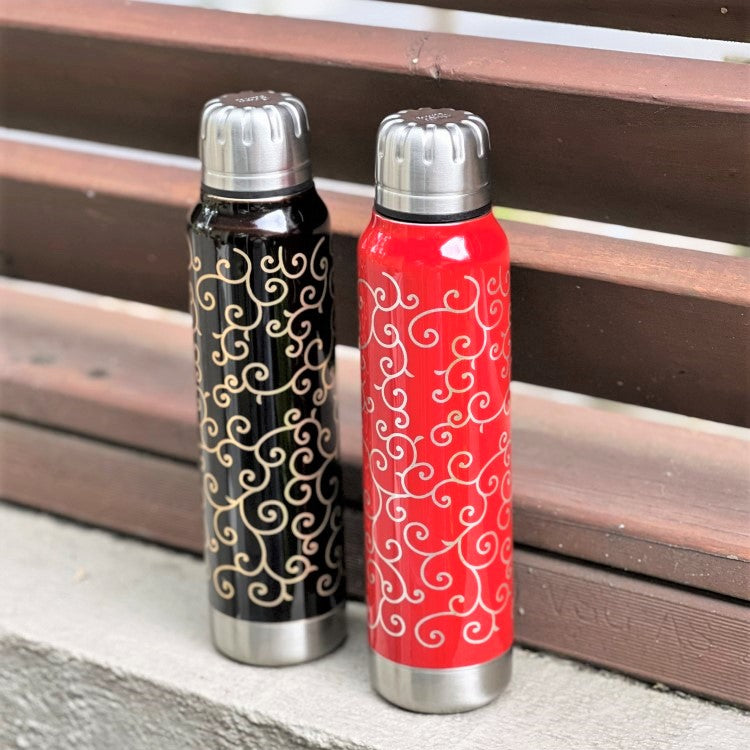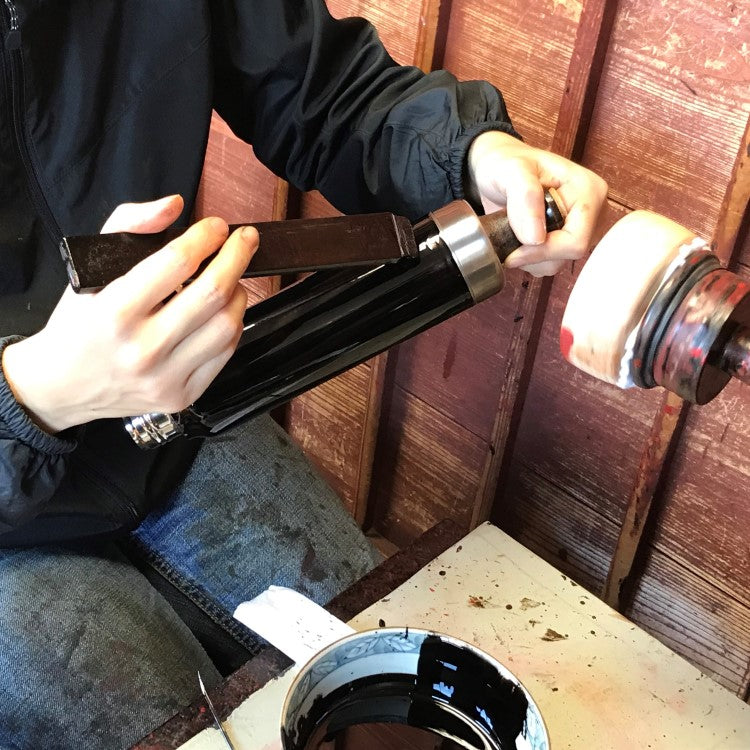 Karakusa Black Umbrella Drink Bottle | from thermo mug
Shipping rates: Orders under $30: $6 Orders between $30 and $75: $8.90 Orders above $75: $4.90 We only ship within Australia at this time.
It doesn't get any more unique than this. This exclusive Japanese lacquered drink bottle from thermo mug is a show stopper with its beautiful and unique design. Now you can literally hold a work of art in your hand and feel good about it. 
Japanese lacquer (Urushi) is firstly applied over the bottle manually by expert craftsmen. Then, another application of 'Maki-e' (a metallic powder consisting of gold or silver in lacquer) is drawn over to create the beautiful design. Each bottle is hand finished with this traditional Japanese technique. Yes, there are many bottles out there with a similar shape and function, but how many are there which literally has some Japanese history on it?
This black bottle features a Karakusa design, a traditional Japanese pattern representing intertwining vines. It symbolizes longevity and prosperity.
The slim design is based on a folding umbrella, making it ideal to fit snugly into bags and carrying around. The vacuum insulated double walled structure gives you more than 6 hours of hot or cold drinks. It is lightweight at only 235g.

This is the perfect gift for a special occasion. For someone. Or yourself.

Product details
Designed in Japan by thermo mug and Tsuchinao Shikki
Lacquer finished manually by craftsmen in Japan
Capacity: 300ml
Dimensions: 5.5cm (diameter), 23cm (height)
Weight: 235g
Body material: 18-8 stainless steel

Lid: Polypropelene

Cap seal: Silicone rubber
Temperature retention test:
Starting water temperature: 

95°C ± 1°C or 4°C ± 1°C

Bottle is closed properly with lid, and left at a room temperature of 20°C ± 2°C. 
| | | |
| --- | --- | --- |
| Starting temperature |  After 3 hours | After 6 hours |
| 95°C ± 1°C | 80°C or more | 71°C or more |
| 4°C ± 1°C | 5°C or less | |
All of our items are stocked in and ships from Sydney. Orders are shipped within 2 business days, but are usually dispatched the same or next business day.
Flat rate shipping (outside of shipping offers):
Standard (2-8 business days):
- $8.90
- $6 (orders under $30)
- $4.90 (orders over $75)
Express (1-4 business days):
- $16
- $12 (orders over $75)
Unfortunately we do not offer free shipping at this time as we are still growing and most of our items are bulky. We hope to help our customers with free shipping in time.
We currently do not offer international shipping.
Thanks for your understanding and support!
More shipping information here.
Returns
30 day return policy for a refund due to change of mind, provided the item has not been opened or used. Shipping fees to be covered by the customer in these instances.
We do individually check each item when it is packed. If for any reason there is a defect or an item is damaged during shipping, rest assured we will provide a full refund, or you can choose for a new item to be sent (please provide evidence of the damage). We cover shipping fees in this case.
More information on returns here.
How long does shipping take? 
Orders are packed and shipped within 2 business days, although over 95% of our orders are packed and shipped within 1 business day.
Delivery times will then take between 2-8 business days for standard shipping (by Sendle or Australia post), or 1-4 business days for express Australia post shipping, depending on the carrier status. We currently do not ship internationally.
How long does the bottle keep the drink hot or cold?
Please refer to the product page description for details.
Where are the bottles sourced from?
The drink bottles are Japanese brands but are made in China. Some of the bottles have extra finishing process that are carried out by Japanese craftspeople. For example, coating of Japanese lacquer on the Karakusa Umbrella bottle.
Are there spare seals and spouts?
Yes there are, but we do not stock spares in Sydney and will have to order these from Japan.
What is Majime Life about?
My name is Ken and I run this small business of wanting to introduce more Japanese bento culture into Australia. I'm based in Sydney, and I started this business during the pandemic after quitting my full-time job to find and fulfill something I am passionate about.
Is Majime Life a legitimate business?
Yes! I started this business in 2021 and growing it as an online store. All stock are imported directly into Sydney, and dispatched from Sydney. No dropshipping.
You can check out our google reviews by doing a quick google search.
Please refer to this page: