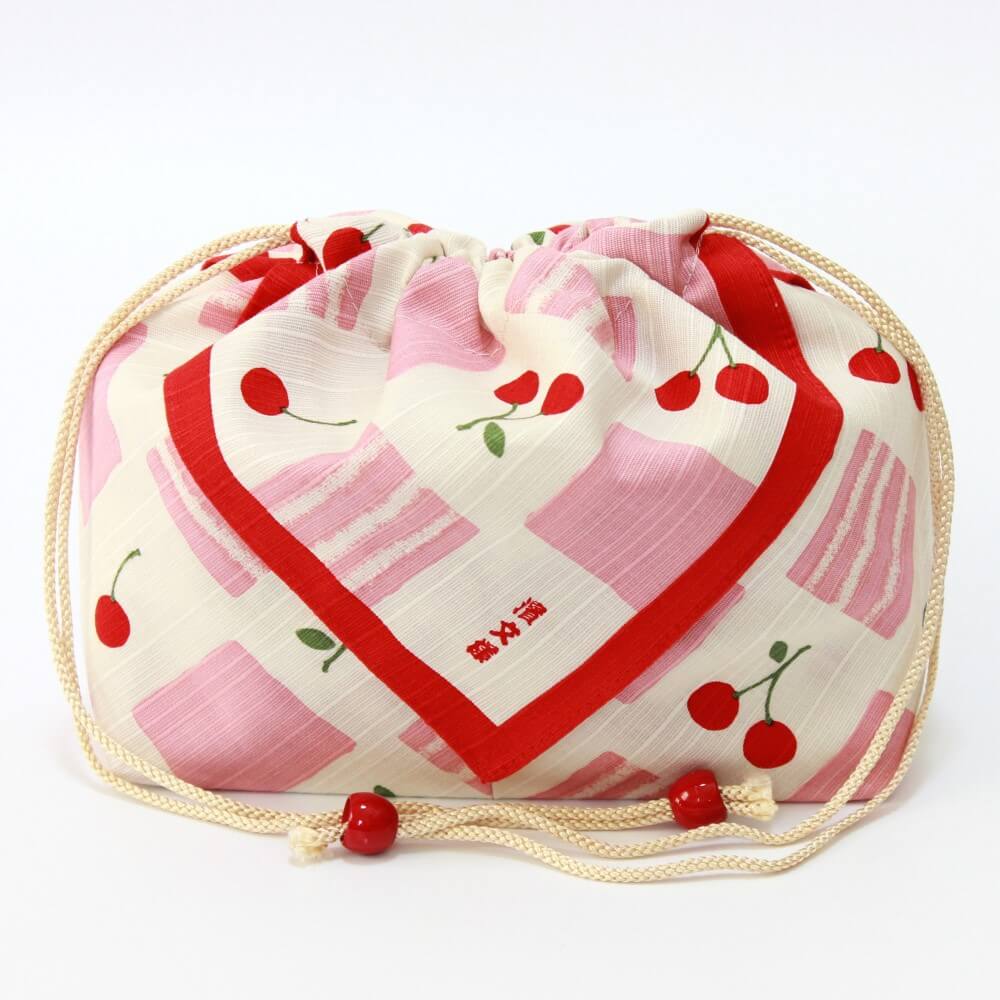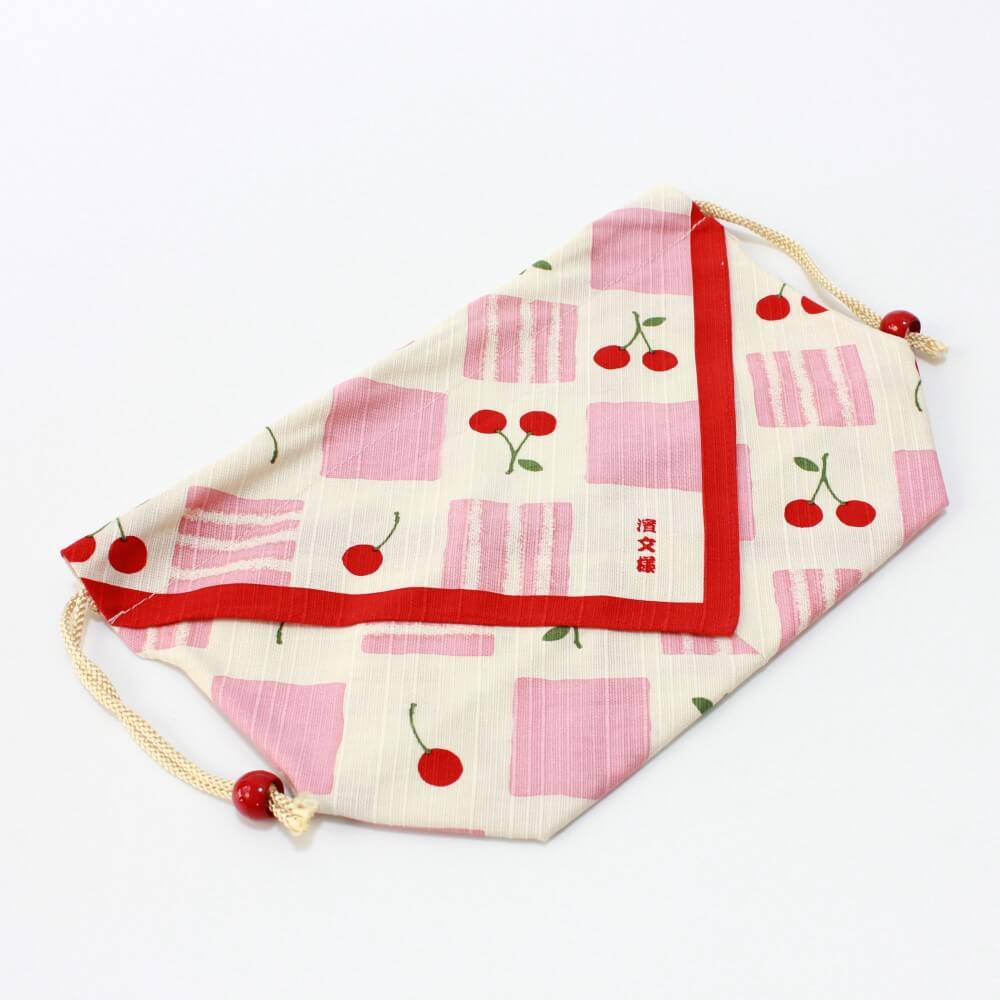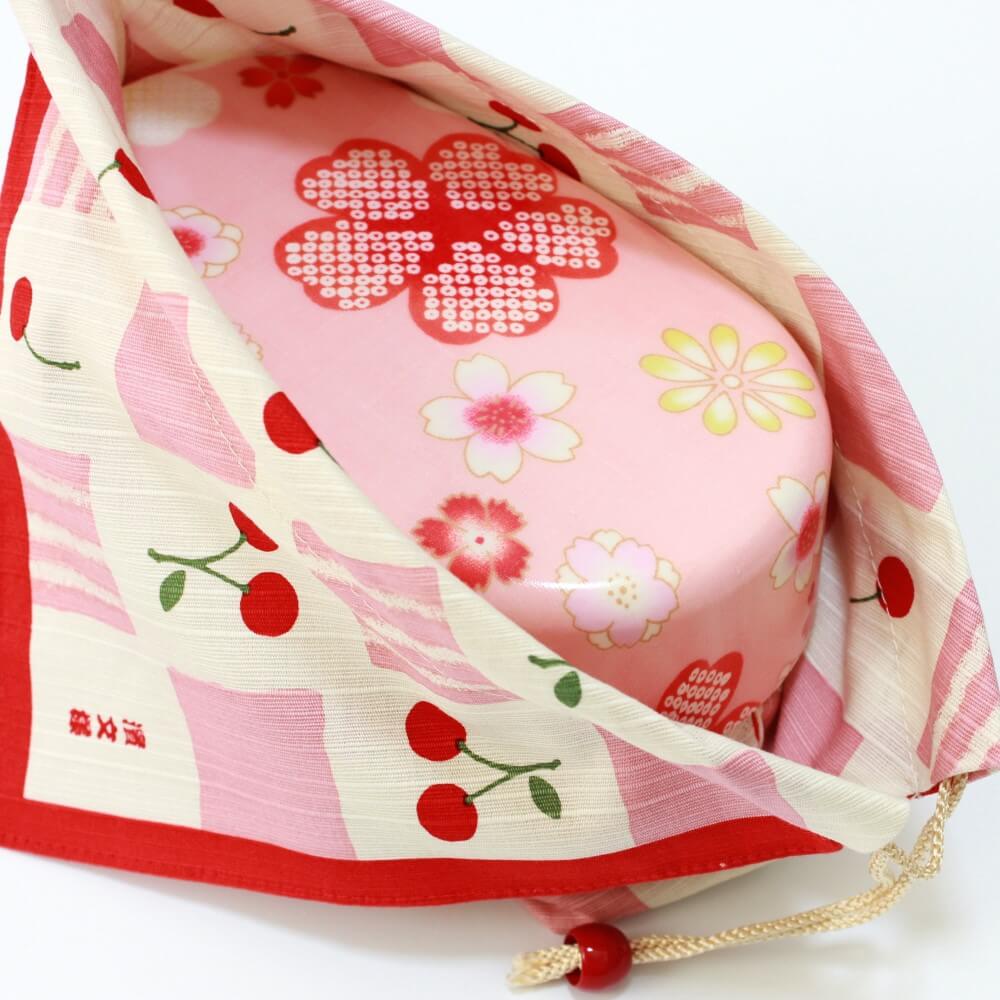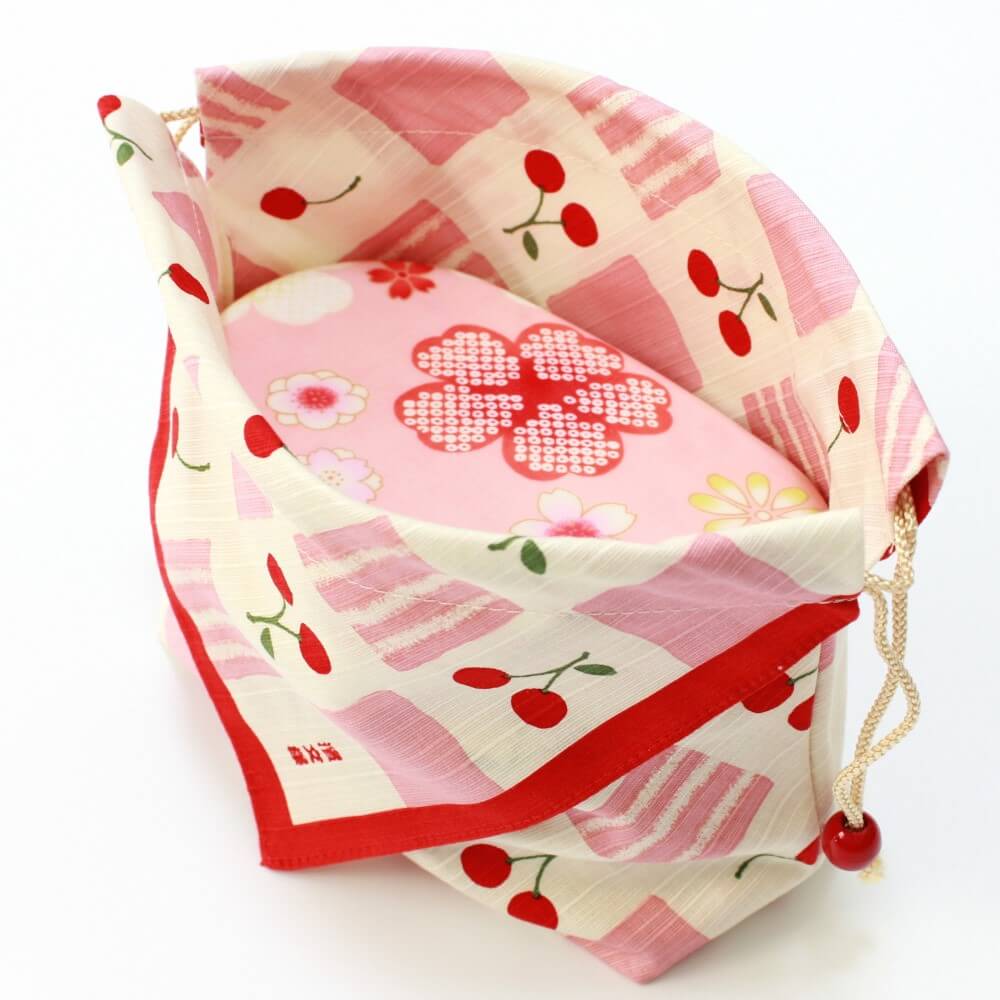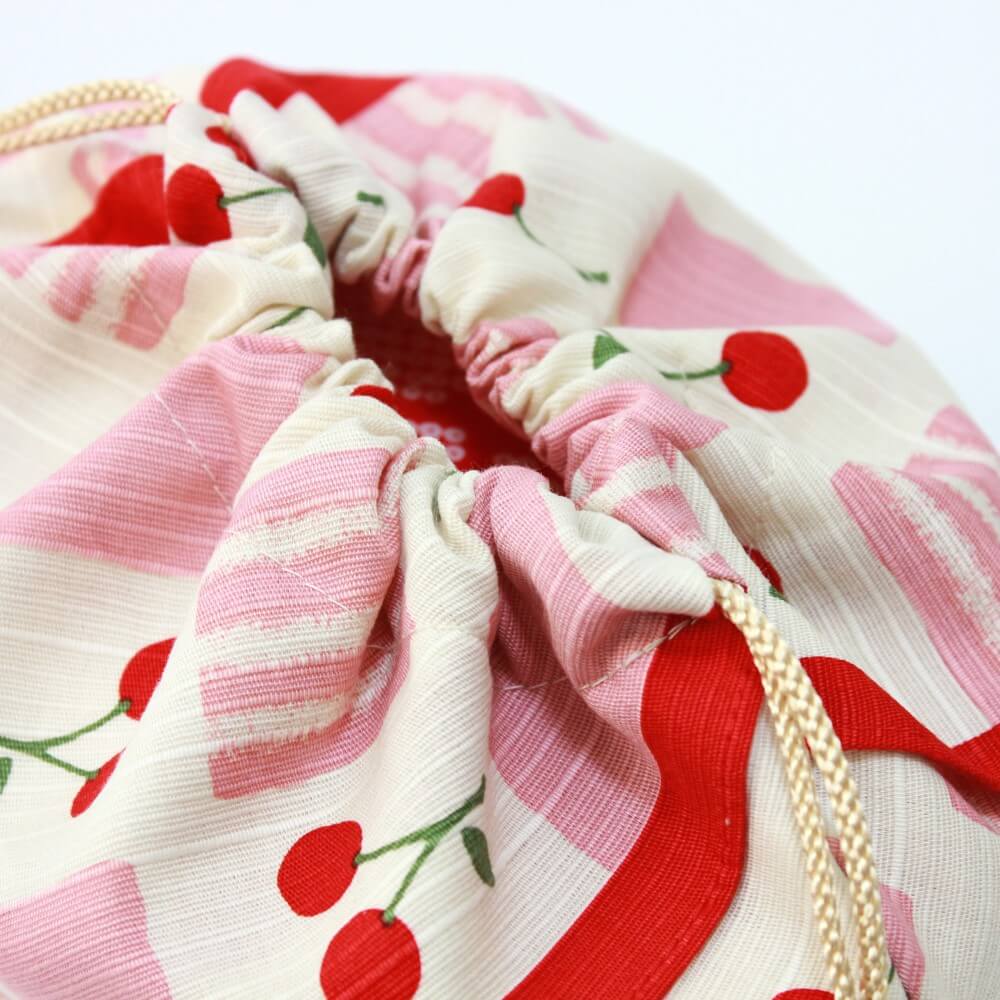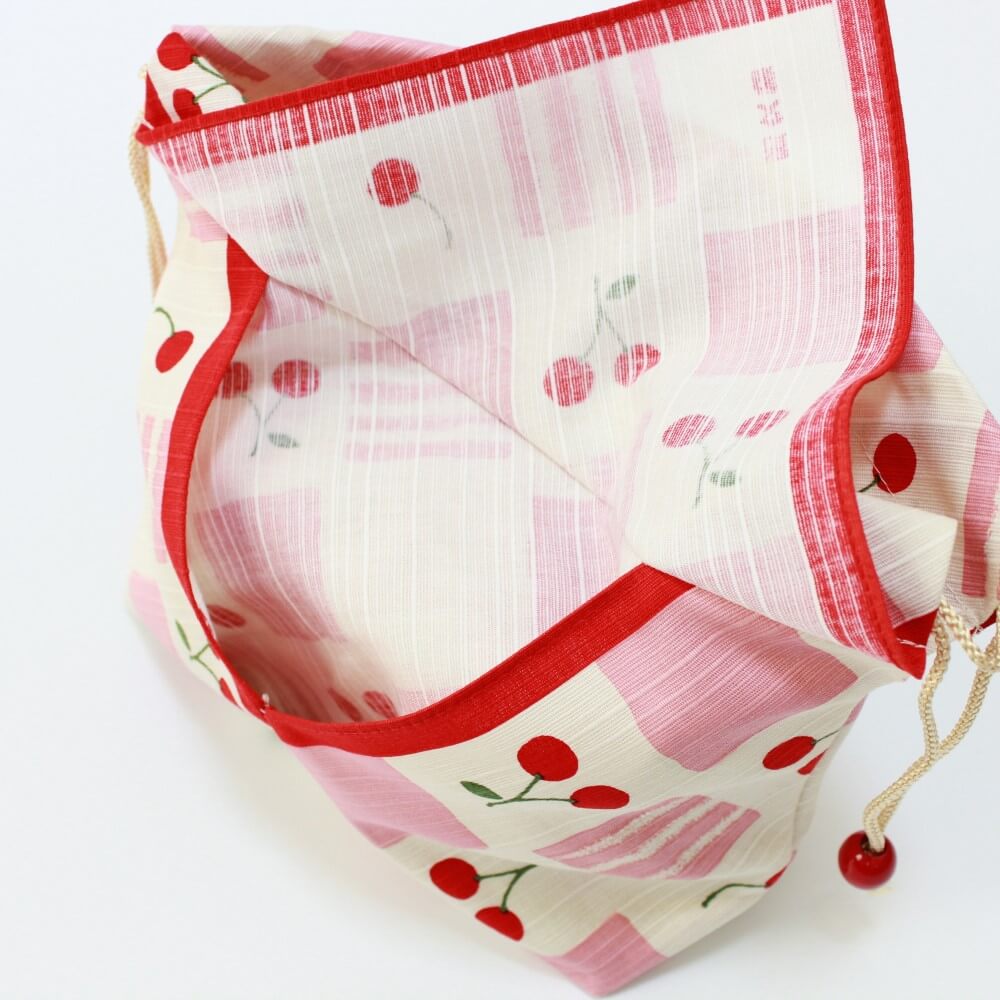 Hama Monyo Ichimatsu Cherry Bento Lunch Bag
Shipping rates: Orders under $30: $6 Orders between $30 and $75: $8.90 Orders above $75: $4.90 We only ship within Australia at this time.
Sakuranbo (cherries) fill the white patches in this Ichimatsu (checkered) patterned bento lunch bag (pouch). The pink and red themed design will pair perfectly with a cute style bento box. The combination of cherries and colour tone of this design should bring cheerfulness and brightness to your day. 
Two hidden side pockets flank the main storage area, and you'll be able to keep small forks, spoons, and other condiments for your lunch box. The convenient drawstring lets you open and close the bag easily, plus you can wash the bag when needed. 
You can also use this bag as an organizer to store loose items in your bag. 
View other bento lunch bags in our collection. 

Which bento boxes can this bag hold? 
This bento bag can only fit some of our standard sized one and two tier bento boxes. In general, if the width and length dimensions of the bento box falls within the base dimensions of the bag, it should fit. The following bento boxes won't fit in this bag: 
Please get in touch with us if unsure about the usage. This bag will not store picnic bento boxes. 
Product details
Made in Japan
Dimensions: 24 x 16.5cm (when laid flat),
Bottom gusset width: 8.5cm
Weight: 50g
Material: 100% cotton (bag), 100% acryl (string)
Product care: Machine washable (cold wash or maximum 40 degrees celcius luke warm wash); Like all cotton materials, colour may fade over time, so wash with like colours; Line dry; Warm iron
All of our items are stocked in and ships from Sydney. Orders are shipped within 2 business days, but are usually dispatched the same or next business day.
Flat rate shipping (outside of shipping offers):
Standard (2-8 business days):
- $8.90
- $6 (orders under $30)
- $4.90 (orders over $75)
Express (1-4 business days):
- $16
- $12 (orders over $75)
Unfortunately we do not offer free shipping at this time as we are still growing and most of our items are bulky. We hope to help our customers with free shipping in time.
We currently do not offer international shipping.
Thanks for your understanding and support!
More shipping information here.
Returns
30 day return policy for a refund due to change of mind, provided the item has not been opened or used. Shipping fees to be covered by the customer in these instances.
We do individually check each item when it is packed. If for any reason there is a defect or an item is damaged during shipping, rest assured we will provide a full refund, or you can choose for a new item to be sent (please provide evidence of the damage). We cover shipping fees in this case.
More information on returns here.
How long does shipping take? 
Orders are packed and shipped within 2 business days, although over 95% of our orders are packed and shipped within 1 business day.
Delivery times will then take between 2-8 business days for standard shipping (by Sendle or Australia post), or 1-4 business days for express Australia post shipping, depending on the carrier status. We currently do not ship internationally.
Where are our products sourced from?
Most of our bento boxes and other accessories are sourced and made in Japan to showcase the unique culture and the way bento is made and eaten in Japan. Some items are manufactured outside of Japan due to sourcing limitations, but our primary goal is to showcase designs, concepts and ideas that come from Japan. You will find the country of manufacture on all product pages. 
Instructions are in Japanese, can I get help with it?
Yes of course. While the product page should already have instructions on usage, you can get in touch via our contact form to ask about anything unclear.
What if there is a defect?
If the product has a defect, we will happily exchange it. Please provide photo evidence and get in touch by replying to the order notification email, or via our contact form. We'll discuss instructions from there.
What is Majime Life about?
My name is Ken and I run this small business of wanting to introduce more Japanese bento culture into Australia. I'm based in Sydney, and I started this business during the pandemic after quitting my full-time job to find and fulfill something I am passionate about.
Is Majime Life a legitimate business?
Yes! I started this business in 2021 and growing it as an online store. All stock are imported directly into Sydney, and dispatched from Sydney. No dropshipping.
You can check out our google reviews by doing a quick google search.